Lisa Vanderpump places one silver YSL Tribute sandal on the ground and pushes herself out of her white Rolls-Royce Phantom. She shuts the suicide door, does a little demi-plié to adjust the seat of her white jumpsuit, and shakes out a dramatic white cape hand-adorned with five narrow feather boas — one in nearly every color of the rainbow. She tilts her white, wide-brimmed hat over one eye, arranges her curvaceous blowout, adjusts the imposing prow of her cleavage (at 56, she's not shy about admitting to Botox, but the breasts, a point of pride, are all hers), and tenderly pats Giggy, né Gigolo, her Pomeranian. Loyal retainer Phil Lobel — assistant, publicist, dog-walker, housesitter — hands her a sweaty can of Diet Coke with a straw. She takes a sip. And then, ready at last, she turns to greet her public: the Vanderpump Rules producers and cameramen and fans assembled on the sidewalk of a residential street in Long Beach, California.
It's about 11 a.m., and Vanderpump is out on this May morning with Giggy and her husband/consort Ken Todd to preside as Celebrity Grand Marshal of the Long Beach Pride Parade. Plumed and snowy as one of her eight beloved swans, receiving the adoration of devoted subjects, she is deeply in her element.
"WE LOVE YOU SO MUCH LISA. YOU LOOK GORGEOUS!" two men call out as they walk by. A woman in rainbow fairy wings stops on her path and yells, "LOVE YOU. WATCH YOU EVERY WEDNESDAY!" "WE DVR YOU!!!" People form a small group around Lisa, asking for photos. She obliges them all, including members of the Long Beach Police Department, and especially people who say "LISA. THIS IS MY DOG!!" and thrust their pets into her face.
"Ohhh, where did you get that little dog baby-carrier?" Vanderpump coos to one. Even as she leans perilously close into the mouth of a strange dog, there's something almost inviolably opulent about her. She's so lush it's like a parody of lushness: skin that seems La Mer–ed to the point of obscenity, eyelashes as dense as a row of well-tended hedges, diamonds or diamondlike baubles on all available surfaces. Plus the British accent —nothing signals fanciness like a British accent. She is exactly what you want a cartoon rich person to be, down to the fluffy dog with a personal supply of $8 bottled water, and the human water-sommelier (Lobel) to serve it.
Vanderpump has been on the Real Housewives of Beverly Hills (RHOBH, to the initiated) for all of the show's seven seasons, and in that time she's set the gold standard of Real Housewifery. Atlanta has NeNe, New York has the Countess Luann, Orange County has the dignity of being patient zero and not much else — but of all the Housewives, across America, Vanderpump has emerged at the forefront. (Just look at the reports that name her as the highest-paid Housewife across all franchises.)
Camille Paglia, critic and longtime Housewives fan, credits Vanderpump's rule to "her flamboyant, floridly female persona and her cultivation of a lordly country-house life style (with resident swans) that verges on Marie Antoinette." Vanderpump, Paglia told me in an email, is a "queen bee" who "mischievously traffics in sexual double entendres while flatly asserting woman's absolute control over men (her husband, the charmingly deferential Ken Todd)."
Executive producer Andy Cohen, the man who green-lit her casting, offers a different comparison. In a phone conversation, he explains he saw something "Jackie Collins–esque" in her. "Jackie Collins wrote Hollywood Wives, and when I saw her I just thought she was in the Collins world," he tells me. "I wanted to watch her, desperately, for the same reason I like to read Hello. She's like picking up a copy of Hello magazine."
The Vanderpump magic offers the salacious pleasure of a gossip rag with a veneer of decorum. She's the rare Housewife to become a fan favorite without getting blood on her hands: Within the cutthroat RHOBH milieu, she's managed to seem sane, diplomatic, and not actively evil. Like any good monarch, she knows the value of pageantry (witness that Pride-themed daytime cape) and she balances lavish tastes with the prudence necessary for a long, prosperous reign. For the crowds in Long Beach who came bearing small dogs to greet her, for the over 3 million fans who watched RHOBH last season, for the 1.55 million viewers who watched the finale of her spinoff show Vanderpump Rules, for Phil Lobel, bearer of beverages, and for me — Lisa Vanderpump is Queen of the Housewives.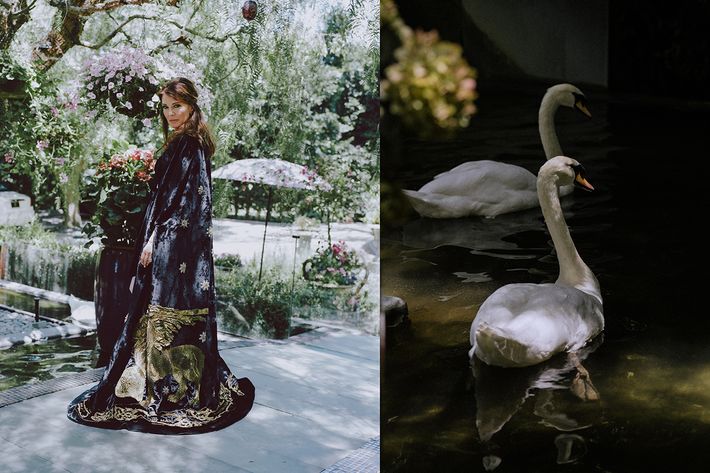 Americans prefer monarchs who profess to be self-made, and on this front, too, Vanderpump gratifies. "I don't have time to sit around too many painting parties," she tells me. "I didn't marry somebody super wealthy where I could sit in bed with a box of chocolates or inherit a shitload of money. I had a good education, but I bought my own apartment when I was 19 years old. My parents did not give me one penny since I left. Not a penny. If I'd married an Onassis or something like that, yeah, I would be sitting around doing sweet fuck-all, but I'm a restaurateur, and I'm a mother, and I'm a wife."
Vanderpump grew up in South London and acted professionally starting at 13 — she appeared very briefly in A Touch of Class, and later had roles on Silk Stalkings and a Baywatch spinoff, Baywatch Nights. (Yes, she acted opposite the Hoff.) At 21, she met her husband, a restaurateur; they got engaged after six weeks of dating, and married after three months. Todd was a crazy playboy back then, she says. These days he's giving up carbs and losing weight. "He thinks he's the dog's bollocks now," she says. "Little does he know we cut the dog's bollocks off, haven't we."
Together, they have opened 33 bars and restaurants, including a replica of the bar from Cheers, near Piccadilly Circus. They have an adopted son, Max, who is a fixture on Vanderpump Rules, and a daughter, Pandora ("Pandy"). The family had been in Beverly Hills six years when Bravo approached Vanderpump about doing a reality show. She lived in a gated community called Beverly Park at the time ("Eddie Murphy lived there, Sly Stallone lived there, Denzel Washington," she says. "Very high-profile.") and the network had also tried a handful of her neighbors. "They had to ask me three times," she recalls. The success of The Osbournes made her decide to say yes.
Real Housewives of Beverly Hills premiered on October 14, 2010, starring a mishmash of women with money — including two former child actors, an heiress, and Kelsey Grammer's ex-wife — who formed a loosely connected, highly combustible group of friends. From the moment Vanderpump showed up in the opening credits, dressed in a shimmering, embroidered white strapless gown, she approached the show with a businesslike command of her circumstances. "In Beverly Hills, it's who you know, and I know everyone," she informed us, delivering her tagline head-on into the camera. And it was clear: Even if RHOBH was not technically a competition, she was the front-runner.
She was funny. She had a deep love for her many dogs (five of whom I met). Her marriage was cheeky and committed. She threw her daughter a fairy-tale English-garden wedding with an outrageous wedding planner who seemed like a Nancy Meyers character. While other characters seemed tense — desperation seething just beneath the surface of their White Party outfits — Vanderpump seemed to enjoy everything about being rich. (Reports put her net worth at about $65 million.) She also positioned herself as a sort of matriarch: When people were struggling, they came to her. When Kim Richards seemed on the brink of a nervous breakdown, for example, Vanderpump swooped in with a millionaire for her to date.
"I had never seen anybody fight like that, though," she says, looking back on the beginning. She recounts an early episode where the Housewives took a trip to New York. "I was at this hotel. I sat there with my mouth dropped open. I had never seen anything like it. I went to bed in tears that night, calling Ken, saying, 'I gotta get out of here.' " But she stayed. "That first season won a Critics' Choice award for best reality show."
After the New York episode — "Storm in a Bloody Teacup," after a Vanderpumpism — her strategy became remaining largely outside and above the drama. "I try and narrate, not be the narrative of the show," she explains.
Still: "Nobody stirs the pot better than Lisa," says Cohen. If someone is being ridiculous and not wearing underwear, she'll say, You're ridiculous and should be wearing underwear. If someone's husband is probably having an affair, she'll say, Someone's husband is not around very much, with a look that says, he is probably having an affair. And then she'll just sit back.
"I'm going to say it while the audience thinks it," she says. "I don't want you sitting at home thinking, Lisa's full of shit, you know she doesn't believe that. No, you're going to hear exactly what I'm thinking, and that's what makes good reality." It's a strategy that has paid off. "Even if the women have turned against me, the audience has always stayed with me."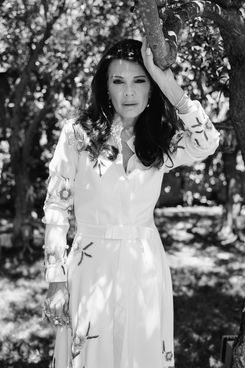 When I arrive at Villa Rosa, Vanderpump's 8,000-square-foot Beverly Hills home, a few weeks after Long Beach Pride, I find her standing barefoot in the backyard. Her hair is just starting to dry, and she's wearing jeans, a white T-shirt, only a few diamonds. She wasn't expecting me, she explains. It was a mix-up with Lobel. (Lobel no longer works with Vanderpump.) Also, there was a fire last night at Sur, the West Hollywood restaurant where she films VPR, but Ken is dealing with it, so she has time to show me the house and the ponies, Diamonds and Rosé.
"Ponies!" Vanderpump calls. She's slightly thrown by my sudden arrival, and her reflex is to show off what she loves best: her Disney-princess-movie menagerie of animals. "Maybe they're running around. Or maybe they've been cordoned off just in that bit. Ponies! Oh, where are they! Ponies! Ponies! Oh see, there they are!" She points to two blonde mini-ponies grazing beyond the infinity pool. Normally, they live in a pink playhouse off to the side of the yard, but today they run free, uninterested in interacting with me or Vanderpump. "They have their own schedule, they'll come in later this afternoon," she says.
In keeping with the first rule of television, Villa Rosa appears smaller in real life than it does onscreen. Even with the swinging glass doors between rooms (for the dogs) and the magazine covers hanging doctor's-office-style in the halls, Vanderpump's home feels homey.
As we make our way through the house, she shows me the wall of family photos, which features Vanderpump's grandmother, various deceased dogs, and Bill Wyman of the Rolling Stones. We pass a table permanently set for a dinner party with pink and gold place settings. She shows me the upstairs view that makes it look "like we live in Provence." She shows me a closet, where I see a dozen Birkin bags organized by color. I see the his-and-hers bathrooms in the master suite — his with a TV over the tub, hers very white and pink, with a chaise longue.
Vanderpump is used to sharing her life with anyone who walks through the doors of Villa Rosa, and she's equally generous today, ambling over her marshmallow-fluff white carpets, laughing her gravelly laugh, pointing out the many things she BeDazzled herself. She has handled the décor for all the restaurants she and Ken have opened in their 35 years together, and her taste runs toward eclectic pastiche of rich-person lifestyle trends through the centuries. Villa Rosa, a modern glass house, contains the marble statuary of the Italian Renaissance, the gilded touches of Versailles, the mirrored surfaces of Art Deco, the tufted pink glamour of 1940s Hollywood, and the timeless florals of the English countryside.
We settle on the back patio, overlooking some swans in the mini-moat. A housekeeper serves us black tea in baby-pink china mugs and Vanderpump insists I eat as many Dove chocolates and Walkers shortbread cookies as I want. Villa Rosa, I notice, looks very similar to Villa Blanca, her L.A. Italian restaurant, which looks similar to Vanderpump Dog Rescue, her shelter and pet-goods store. The unifying motif is BeDazzling plus richly colored silks plus flower arrangements the size of kindergartners. The latter she used to create by hand herself, but now she's trained a member of her restaurant staff to make them to her specifications.
A ball of blond fluff jumps up and steals one of my cookies. Vanderpump grabs him, and pulls him into her chest. "This is Harrison. I bite his nose. He doesn't like it. He'll growl at me, but I don't care what he says. I always say to him, 'I don't care what you think,'" she says, raising her voice into the register of baby talk. "He's the worst dog I've ever had. He took a piece of steak off a customer's plate once at Pump. He's Jax in a fur coat."
She's referring to Jax Taylor, the meaty star of Vanderpump Rules (and of his own spinoff, which premieres tonight). VPR was a show of her own conceiving: There wasn't enough room for her professional life on RHOBH — that was all about her personal life and her causes and her parties — but Vanderpump Rules lets her focus on being a businesswoman and leaves the yelling, crying, and emotional instability to the waiters in her restaurants instead of her friends. "I always say to the kids, 'Give me anything, but don't give me boring,'" she says. "They really do the heavy lifting."
If Vanderpump ever wrote another book — she's already written one, Simply Divine: A Guide to Easy, Elegant, and Affordable Entertaining — the main lesson would be brand extension. Her three L.A. restaurants are Villa Blanca, Sur, and Pump. Villa Blanca, she likes to say, is where you take your wife; Sur, a pulsing nightclub, is where you take your mistress; and Pump is her gay bar. (The food is uniformly bland, and serves mostly to soak up the signature Pumptini.) And she's taken a similarly diversified approach to her reality-TV success, from her flagship to her spinoff to her spinoff's spinoff.
But, as she is quick to make clear, her endeavors reach beyond restaurants and reality TV. Vanderpump Dogs may be a pet-accessory store that sells dog bikinis, but it's also a rescue facility. Recently she's launched a crusade against China's Yulin Dog Meat Festival, tearily testifying before Congress and traveling to Hong Kong to film an anti-dog-meat documentary. The trip was a major plotline in season seven of RHOBH. Her tagline that season was, "I'm passionate about dogs, just not crazy about bitches," to demonstrate both her commitment to the cause and her disdain for other cast members.
Recently she became editor-in-chief of Beverly Hills Lifestyle magazine. (She's selected an old photo of Elizabeth Taylor as her first cover.) She has her own sangria, and a brand new rosé on the way. ("I've got sommeliers who are going to go crazy for this wine.") She has a star on the Palm Springs Walk of Stars. She is not above shilling Flat Tummy Tea.
"I've also just recorded a charity album — this is for the trafficking. Do you want to hear it?" she asks. Vanderpump leads me to one of the living rooms, perches on the edge of a white couch, picks up her iPad, and finds a song. A recorded track of Lisa Vanderpump begins playing over the house stereo system.
As the recorded Lisa Vanderpump sings "Smile," the real-life Lisa Vanderpump makes eye contact with me and begins singing along. It's Lisa Vanderpump in surround sound. "Smile, though your heart is breaking," she sings, shaking her head a little to make sure the vibrato comes out. After about three minutes, she concludes, holding her finger up and nodding gently, never breaking our ocular connection. It ends. She looks at me expectantly.
"You have such a nice, husky jazz voice," I quickly volunteer.
"It's a sweet little voice, isn't it? I think I might have another one. Hold on. I did a recording of 'Will You Still Love Me Tomorrow.' I sent it to Tyler Perry, and I said, 'Tyler, I'd love to do this song for Alzheimer's, because it's like—" singing along again — "Will you still love me tomorrow?"
Vanderpump almost didn't go back to RHOBH for season seven, because of a roughly five-episode feud with Lisa Rinna over whether Yolanda Hadid had Lyme disease or Munchausen's (a feud simultaneously mind-numbingly dumb and Shakespearean in its intricacy). Currently, she's again debating whether or not she'll go back for season eight. She's simply not sure if she'll have the time, with all of her other obligations.
"This year, who knows if I go back, we don't know just yet," she tells me in June. "It's not about any negativity towards the women or anything. It will purely be the time factor, because I like to spend time with all the charitable stuff I do, the dog-rescue center, becoming editor-in-chief of Beverly Hills Lifestyle … It's a discussion with Bravo. They are making the hard pitch."
In my conversation with Andy Cohen a few weeks later, I ask if he can confirm Vanderpump's appearance.
"Can I confirm it? Yeaaaah. Yes. Yeah," he says, with a tone of implied inevitability or, duh.
Of course Vanderpump will continue to serve. Would a dog-meat documentary or an Alzheimer's song matter if she weren't a Housewife? She might rule, but she's also beholden.
And then there is her love of the lifestyle. "I do love a sumptuous lifestyle," she admits, as she guides me toward the door. "I mean, I'm not shy to be driving around in some fabulous car, with the roof down, and dogs hanging out the back, and beautiful things … I love that. I love that in my house, I love that. " The camera crew is coming down the drive, and she needs an hour to get into hair and makeup. Her duties beckon: The time has come for her to go be queen.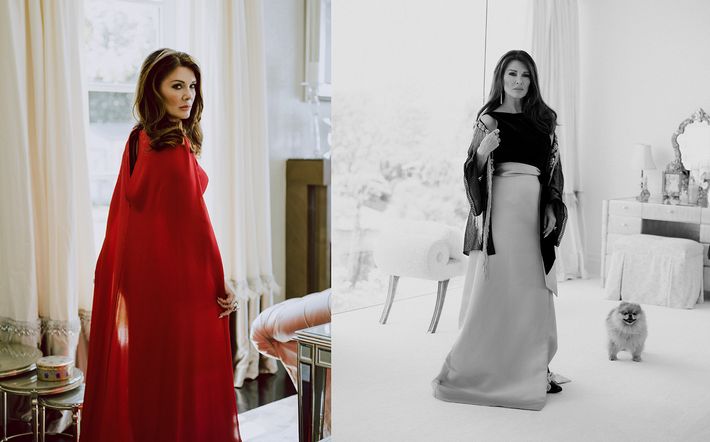 Lead image credits: Marchesa Notte cape gown, $895 at Shopbop. Lisa Vanderpump Collection Jewelry.
Production Credits:
Photos by John Clayton Lee
Styled by Bruno Lima
Produced by Biel Parklee
Hair and Makeup by Patrick Tumey at Celestine Agency
Photography Assistant: Kaleb Marshall
Fashion Assistant: Maxine Huppy