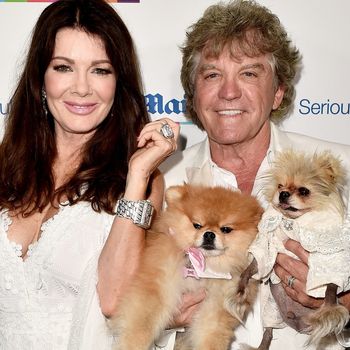 Lisa Vanderpump, Ken Todd, and dogs Hansen (L) and Giggy (R).
Photo: Alberto E. Rodriguez/Getty Images for DailyMail.com
A couple of weeks ago, a dog rescuer came forward with bombshell allegations that Lisa Vanderpump, husband Ken Todd, and the Vanderpump Dog Foundation had scammed her out of tens of thousands of dollars. Now she's back with a lawsuit that alleges, among other things, that she was assaulted during her dealings with the reality-TV couple.
To recap, Lizzie Scherer of Saving Spot said that the couple agreed to pay her $32,000 to lease her space. They pulled out, with Vanderpump responding that, "We can't be involved with someone who doesn't have a charity set up properly. Everything was messy." Other information about Saving Spot points to validity in what Vanderpump said: the organization lost its tax-exempt status back in 2015 and has been accepting donations illegally since then. Plus, the majority of its Yelp reviews allege that it's an expensive pet store posing as a dog rescue.
According to TMZ, Scherer has since filed a lawsuit against the couple and their foundation in which she alleges that Todd got so angry when she said she wouldn't provide dogs for a gala they were sponsoring that he did this:
He allegedly threw her against a wall and yelled, "Do you know who I am? I will ruin your life!"
The lawsuit also states that they had raised $64,000 at the event and had agreed to split it with Scherer, then backed out — though Todd said he'd pay some of it "only if the exec released him from liability for the assault."
Vanderpump denied both claims of assault and that they had ever agreed to split the cash. Her Pomeranian, Giggy Vanderpump, also came forward to deny claims that he's actually an animatronic dog.