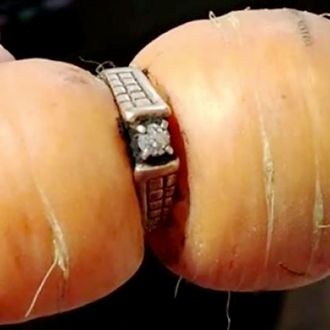 Mary Grams's lost ring.
Photo: Iva Harberg/Courtesy of CBC News
Canada is often portrayed as our friendlier, more polite, and largely uneventful neighbor to the north. And while that may not be entirely the case, here's a news story coming out of the country that stays pretty true to the stereotypes: A woman's long-lost engagement ring was found, with a carrot growing around it.
84-year-old Mary Grams was reunited with her diamond ring this week, which she believes she lost while pulling weeds in her Alberta garden back in 2004. Her daughter-in-law stumbled upon it when she pulled a carrot out of the ground, telling the CBC, "If you look at it, it grew perfectly around the [ring]. It was pretty weird looking."
Grams never told her now-deceased husband that she lost the ring in the first place, "because I thought for sure he'd give me heck or something."
The carrot has not commented publicly, but appears to have given the ring back without an argument.