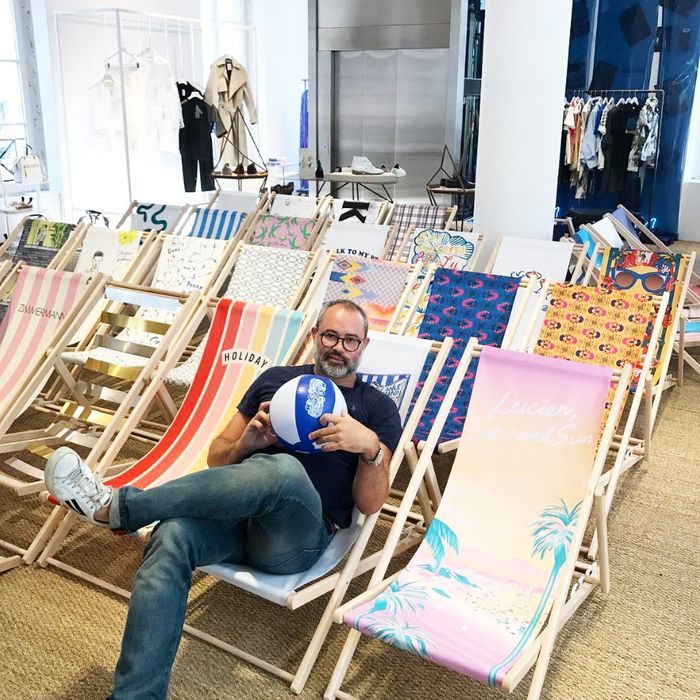 Lucien Pagès at Colette.
Photo: Courtesy of Instagram/colette
If you're wandering around Paris this August and feel a sudden urge to be at the beach, just pop into Colette. PR maven Lucien Pagès is turning the first floor of the French concept store into "Les Vacances de Lulu" from August 7 to September 2.
The project is named "Les Vacances de Lulu" because, well, Pagès loves his August vacations. He wrote in a press release about Colette owner Sarah Andelman, "Did she know I thought I loved them more than other people loved theirs? MY holidays."
When Andelman approached him about spending his beloved vacation time curating a pop-up store, he admitted he felt "deflated at first." But then, with the help of his lineup of designers, he created, "the most refreshing of all summer playlists."
The project will feature one-of-a-kind beach chairs made by designers and DJs, clutches by Olympia Le-Tan featuring covers of gay literature Pagès discovered as a teenager (per Vogue), and clothes from 32 of the most buzzed-about labels including A.P.C, Jacquemus, Charlotte Chesnais, Loewe, and J.W. Anderson.
A different person or brand will take over Colette's first floor for each of its remaining months. Sacai, Thom Browne, Chanel, and Saint Laurent will follow Pagès's installation.