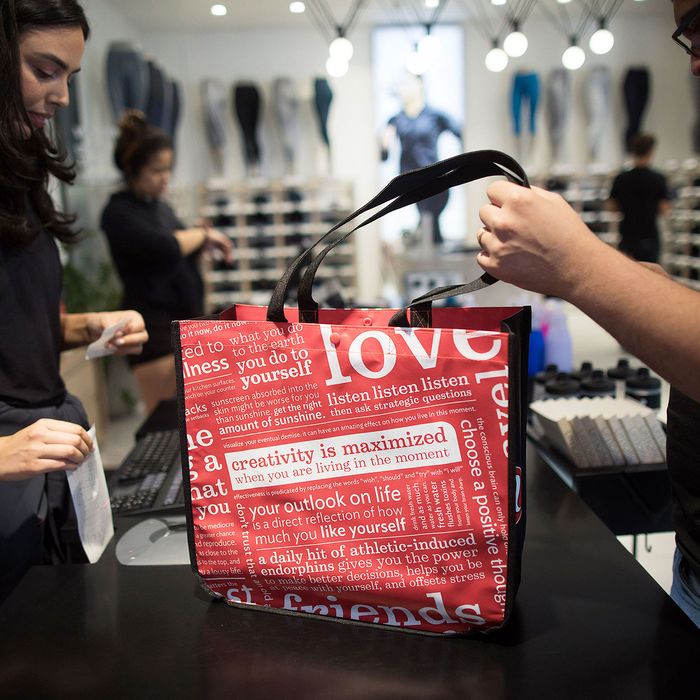 A Lululemon tote.
Photo: Simon Dawson/Bloomberg via Getty Images
Don't believe everything you read on a tote bag. It might be good to "Breathe Deeply" and understand that "Friends are more important than money," but get your SPF advice from medical professionals. User MadelineBai on Reddit's Skincare Addiction forum found a new version of a Lululemon tote bag that stated the fake news that, "Sunscreen absorbed into the skin might be worse for you than sunshine. Get the right amount of sunshine."
This is false, as science has proven that sunscreen is the only known antidote to skin cancer caused by ultraviolet light. While you can get Vitamin D benefits from the sun, you can also get it from salmon, tuna, cod liver oil, mushrooms, and even butter. If you don't like chemical sunscreens, look for sunscreens with physical UV blockers such as zinc or titanium dioxide, which do not absorb into the skin.
Business Insider reached out to the brand, who said, "The manifesto design that goes on our bags is a collection of statements that are ever-evolving and intended to spark conversation that is relevant at the time. To clarify, the manifesto design on our webpage is the most up-to-date and has been used on our most recent release of manifesto print bags." Strangely, this Lululemon sunscreen guidance appears to be new, as old versions of the tote bag used to proclaim, "Wear sunscreen!" Lululemon's most recent manifesto on their site does not mention sunscreen. Just wear it. (It's even free in NYC and don't eat it.)