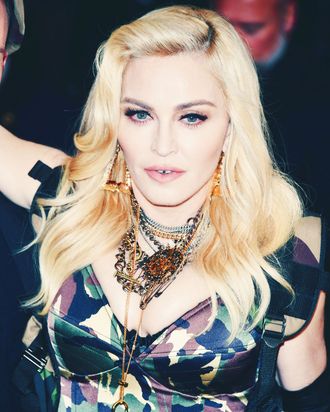 Madonna.
Photo: George Pimentel/WireImage
MDMA, meet MDNA: Madonna's official skin-care line, previously only available in Japan. After three years, the brand will finally be available for purchase in the U.S. "It's a line I can use every day. My children use it, my friends use it," Madonna said of the line to WWD. Madonna's dermatologist, Dr. Paul Jarrod Frank, is a consultant for the line.
Of course, the Material Girl's line is a luxury line, with the focus being on technology (notably, aging or "anti-aging" was not mentioned). The most expensive item in the range, which will include an Onyx Black Beauty Roller, is a $600 magnetic face mask or "Rejuvenator Set." The set contains a clay mask made from the thermal waters and fango clay of Montecatini, Italy, which is designed to be removed (not rinsed) from the skin with a magnet that pulls clay particles cleany off the skin. The magnet allegedly stimulates collagen production and elastin, without hurting skin. The line debuts at Barneys.com September 26, and good luck magnetic-masking on the plane.