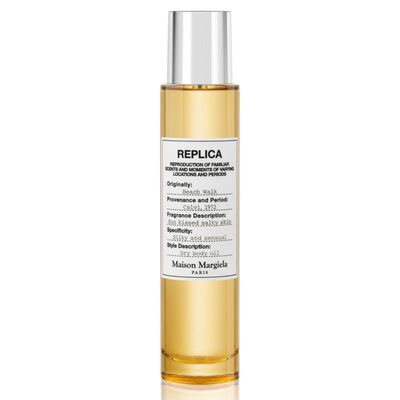 You know that distinct, briny smell that all beaches have? It actually comes from a particular sulfurous algae, but to the shock of no one, smelly seaweed has never been listed as a top note in "beachy" perfume. Instead, the beauty industry wants us to imagine that the beach smells like salty ocean water or tropical sea breezes. And I'm fine with that subterfuge, as long as it results in something as delicious as Maison Martin Margiela's new body oil.
The brand's Beach Walk fragrance makes you want to believe in the easy fantasy of a beach with absolutely no "seashore funk." The scent, a mix of the creamy coconut from a fancy sunscreen and laundry musk, is luscious, and feels like warm, cascading billows of wind on the skin. In the body-oil format particularly, it goes on like a luxurious dry oil slick, buffing ashy ankles, knobby elbows, and dry knees until they become fragrant, polished, and soft. I never knew the sensual pleasure of having a great-smelling kneecap until now.
In addition to the dry oil format, there's also a lotion, candle, perfume, and body gel. But I like that the dry oil format dries immediately, ensuring that it won't make sheets oily or greasy, and enabling you to put on clothes immediately after applying. The scent is present, but isn't so strong that putting it on will make you instant summer-mosquito prey. Cynics might smell the scent and may gripe that it doesn't smell like any real beach. But I choose to believe.
If you buy something through our links, New York may earn an affiliate commission.