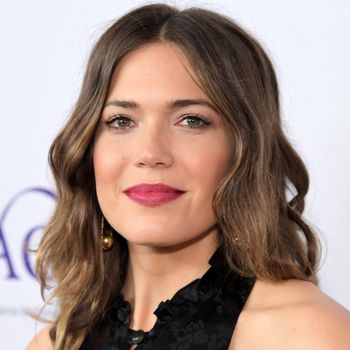 Mandy Moore.
Photo: 2017 Getty Images
Mandy Moore first stole hearts in aughts classics like A Walk to Remember and The Princess Diaries, but in the past year, she's seen her new show This Is Us become a runaway success. Outside of Hollywood, Moore has launched the Her Life Her Adventures campaign with the biopharmaceutical company Merck to encourage women to educate themselves about their birth-control options. Moore spoke with the Cut about bone broth, the importance of birth control, and taking care of herself after shooting This Is Us.
How I start my mornings: I want to say I have some fantastic routine, but I wake up and I make coffee — a pour-over. Then it's a little bit of "me" time to catch up on the news, feed my dogs and cats, and sort of putz around the house. Once I became an adult, had real responsibilities and a job, I realized that I needed to ground myself in the day before I start to tackle anything. If I'm getting up early for work, I'll take that half-hour less of sleep so I can have a cup of coffee before I leave, check emails, and feel like I'm sort of naturally flowing into my day instead of abruptly starting it.
I'm one of those people who wakes up hungry. I like to work out in the morning and I can't work out on an empty stomach. It's not usually a full meal but it's a protein shake, a bar, smoothie, banana, or nuts — just something to get my system going.
Then when I come back, I love eggs — like scrambled eggs, pretty simple. I'll do a good egg, scrambled hard, not runny, with crispy bacon.
How I like to sweat: I'm not someone who's super inclined to go to the gym, but I always feel better when I push myself to go. The mix of things I'll do is go to the gym, work out with a trainer, yoga, or go to a class, like a Barry's or SoulCycle. I live in southern California, so we can go outside to move around — I love hiking with my dogs.
What wellness means to me: My idea of wellness is constantly shifting. I think it's taking care of myself — a comprehensive view of taking care of myself, whether it's health, nutrition, or fitness.
On family planning as a part of wellness: Wellness should be an all-encompassing term that includes being mindful of family planning or birth-control options. That's something that's really important to me and I don't think it's really discussed enough.
Family planning and birth control have been top of mind for me for a while. It's a choice that I've made in consultation with my doctor. I want to continue this dialogue and take it out of the realm of a taboo. It's empowering to know what your options are and make the best choice for you.
How wellness has changed for me: In general, I'm a big proponent of taking care of myself and I'm mindful of my well-being. But there have been times when I've been less mindful and haven't taken care of myself emotionally.
I love acupuncture and I love getting body work done. I was going through a particularly stressful chapter of my life and acupuncture was so helpful. I had friends who were big proponents of it and it helped them for a myriad of different things — whether it was fertility problems, period cramps, or rehab after surgery. Personally, I went for the mental well-being aspect of it. I just needed to relax. But it's in concert with going to talk therapy, yoga, eating better, or spending more time with my girlfriends.
On the emotional side of filming This Is Us: Every time I talk about the show now, my eyes well up. I'm a super sensitive person and I feel like the show has ratcheted that up. We all are pretty emotional, but literally I cry when I read scripts.
Strangely, I feel like I'm pretty decent at leaving my emotions there, because it requires so much energy from all of us. You're pretty drained at the end of the day. I find it pretty easy to shut my trailer door. In general, in life, I'm not someone who carries things around with me. I feel like there's enough catharsis through doing the scenes and working them out and talking about it.
But there's a lot of levity on set as well; there's a lot of laughing. The show has made me examine things in my life. It makes me want to talk to my family more. It's funny how people want to come up and have conversations with you about their own lives. It's crazy how personal people want to get about death and divorce and their strange relationship with their child or their sister.
On nutrition: I live in L.A., and you have so much access there to healthy-eating options. There's juice places on every corner instead of coffee shops. I'm not super strict. I try to do what feels good to me. Moderation is a big thing for me. I love food. I'm like a quasi-foodie. I'm not a big going-out person; to me going out is trying a new restaurant. But having said that, I still try to eat healthy. It makes me feel better and that's really what it's all about.
How I eat when I'm alone: Maybe my habits are not as on point as they should be. Sometimes I'll forget to eat, I'll get caught up working or running errands and then it's like, Oh my gosh it's four o'clock and I haven't eaten since breakfast. Yeah, no wonder I'm hangry, I need to eat something. If I have a more regimented schedule, I'm better about staying on track with eating.
My best wellness advice: Sleep when you can. Get a good night's sleep. It affects all aspects of your well-being. I'm boring and I go to bed at nine o'clock and wake up at six. It's lame, unhelpful, and totally obvious, but it's good.
Mandy Moore's Three Wellness Recommendations
"It's for when I want something warm in the afternoon. It'll give me that pep I'm looking for, that energy and protein, but it doesn't keep me awake."
"It's what I use when I get out of the shower. My dogs love it. I have to keep them out of the bathroom after I've gotten out of the shower. They just want to come and lick my legs."
"My favorite perfume is 1996 by Byredo."
This interview has been edited and condensed.