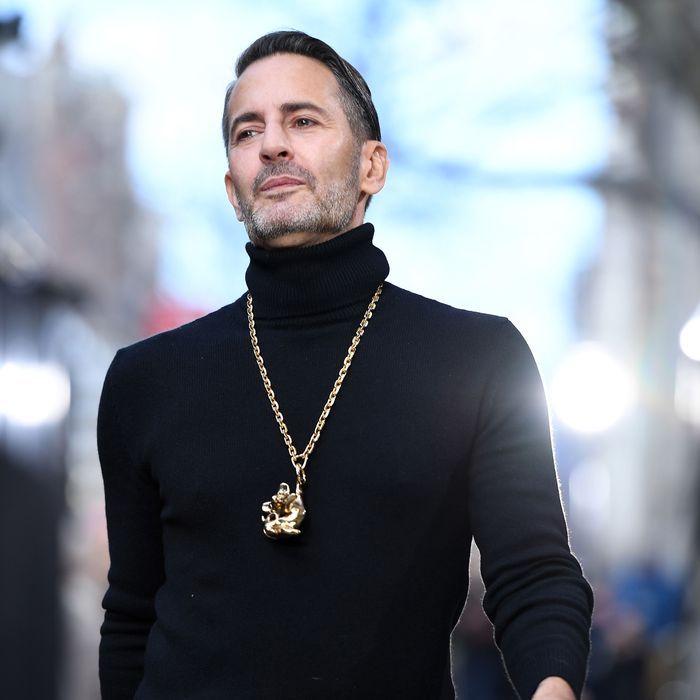 Marc Jacobs.
Photo: Angela Weiss/AFP/Getty Images
Following Marc Jacobs's spring 2017 show last September, which featured models (many of whom were white) wearing dreadlocks inspired by the director Lana Wachowski, the designer faced accusations of cultural appropriation from all sides.
Jacobs, no stranger to Instagram drama, immediately responded to Instagram comments with a note that began in a defensive tone, and ended with, "Think about it." (He then wrote a second, more sensitive response on his own account a few days later.)
But almost a year after the fact, it seems Jacobs has been doing some more thinking of his own. For a feature in InStyle's September issue, the designer tells writer Eric Wilson: "Maybe I've been insensitive."
The InStyle spread is a much more direct olive branch. Photographed by legendary music video director Hype Williams, it features Jacobs posing with hip-hop icons like Biz Markie, Kurtis Blow, LL Cool J, and Salt-N-Pepa — all of whom wear his fall 2017 streetwear-inspired collection, which is titled "Respect."
With regard to last year's controversy, Jacobs goes on to say, "What I learned from that whole thing, what caused me to pause after it died down a little bit, was that maybe I just don't have the language for this, or maybe I've been insensitive because I operate so inside my little bubble of fashion."
A lot of "maybes" here, to be sure, but maybe Jacobs really means it, too.