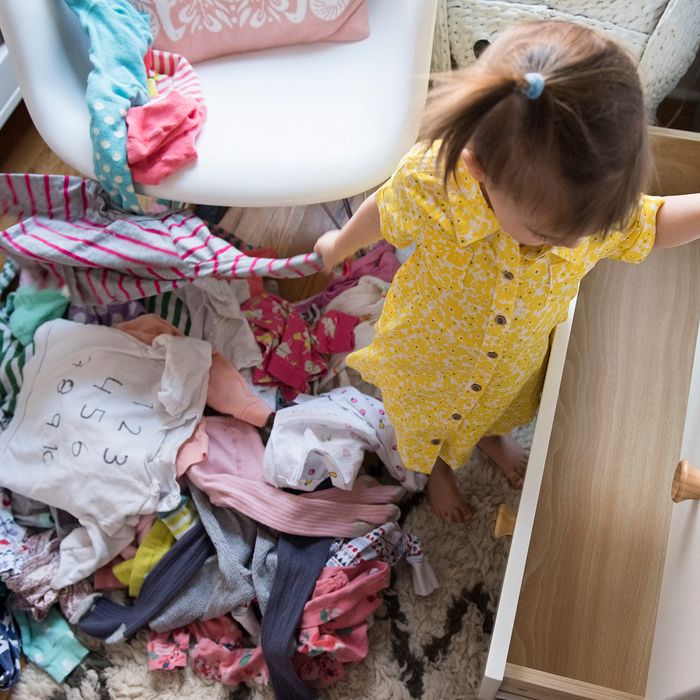 According to Kondo, children are perfectly capable of experiencing the life-changing magic of cleaning their rooms.
Photo: JGI/Blend Images/Getty Images/Blend Images
At the peak of Marie Kondo's popularity in the U.S., fans and skeptics alike raised their eyebrows at how the then-pregnant organizing guru would fare once a baby entered the fold. Today, The Wall Street Journal checks in with the best-selling author, now a mother of two and resident of Northern California.
"I was surprised," Kondo told the Journal about life with her older daughter, "to see her putting books, stuffed animals and toys for playing house back in their place more precisely than I expected." Two-year-old Satsuki even mimics her mother's folding ("though I secretly fix them when she's not looking"). Despite toddler Satsuki and her younger sister, 10-month-old Miko, her household has retained its tidiness, Kondo says — though she did decline The Wall Street Journal's request for a home tour. Personally, I'm grateful: I prefer relegating whatever this calm, serene home looks like to the bowels of fantasy.
To prepare for parenthood, Kondo and her husband held what she calls "a decluttering festival," feeling that the more conscious they were about how much space to dedicate to a baby, the less tempted they would be to clutter their home with baby items. (A side question: Did they have a baby shower? If so, I would love to know what was on the registry. "Joy, pack of 3.")
Still, Kondo concedes that parenthood did inspire her to update her methods. Rather than organize and dispose of items all at once, for example, Kondo now suggests that new parents do what they can, when they can. She also thinks young children can participate, beginning with learning to fold clothes: "It's a good idea to start with socks because they are the easiest." (An accompanying video of Satsuki folding socks is a must-watch.)
Whatever her home might look like in actuality, Kondo's take on teaching children her methods is refreshing — even oddly moving. "When children go through the sadness of letting things go, that can be a good experience for them," she says. "I wouldn't want to eliminate such emotions."