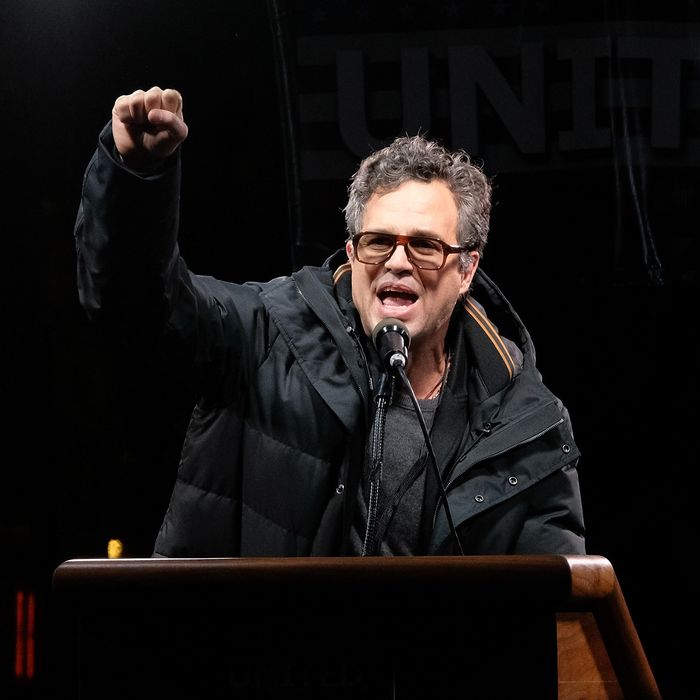 Ruffalo leading a protest last January.
Photo: D Dipasupil/Getty Images
Mark Ruffalo and Michael Moore teamed up on Tuesday night in New York to co-host a vigil for Heather Heyer, the woman who was killed by a car during a white supremacist rally in Charlottesville last weekend. The event brought crowds of protestors to the steps of Trump Tower, Donald Trump's Manhattan residence where he is currently staying, to remember Heyer's life and to decry the president's response to the violence.
"We're here today to commemorate a life of an American that was killed by a Nazi on American soil," Ruffalo said during his opening statement. "Let's say her name so Donald Trump can hear what's happened here."
Moore brought many of the protestors on a charter bus straight from his Broadway solo show/pep rally The Terms of My Surrender, and encouraged other audience members to walk the few blocks from the Belasco Theatre to the skyscraper. According to Variety, Ruffalo had been a special guest performer during the evening's performance.
Ruffalo also responded to Trump's assertion that there was violence on "many sides" of the Charlottesville protest. "There's two sides to this: People who fight Nazis and Nazis," Ruffalo said. "That's it. We can't allow Nazis to be a normal part of our society. We have to fight."