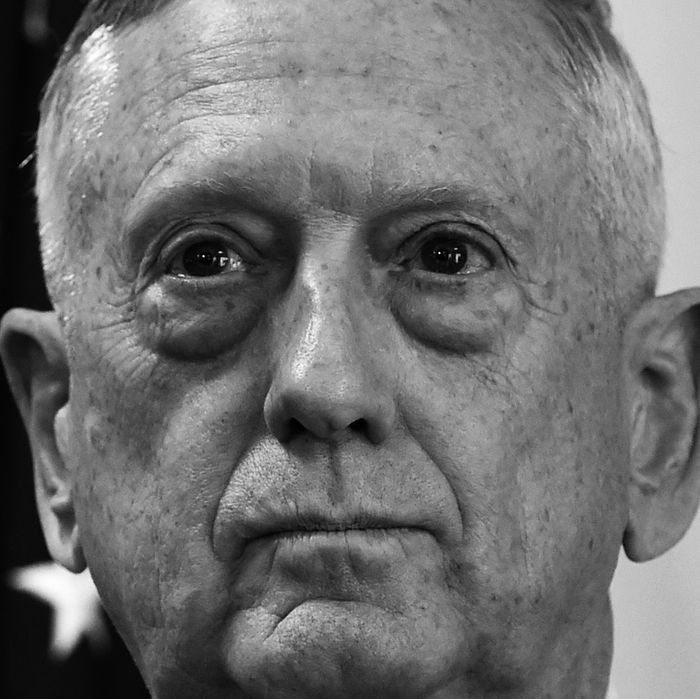 Secretary of Defense James Mattis.
Photo: CHRISTOF STACHE/AFP/Getty Images
Less than a week after President Trump signed an executive order formally banning transgender individuals from joining the military, Defense Secretary James Mattis announced that transgender troops could continue to serve pending the results of a study by experts in the Departments of Defense and Homeland Security.
"Once the panel reports its recommendations and following my consultation with the secretary of Homeland Security, I will provide my advice to the president concerning implementation of his policy direction," Mattis said in a statement on Tuesday. "In the interim, current policy with respect to currently serving members will remain in place."
Although it is being called a freeze on President Trump's decision to ban transgender troops, Secretary Mattis's announcement does not directly contradict any of the president's orders. When Trump reversed the Obama-era proposal to allow transgender troops to serve in the military, he gave Mattis significant leeway in deciding whether or not active-duty transgender soldiers would be able to continue serving.
This is not the first time Secretary Mattis has delayed making a final decision on transgender troops by calling for further study. Under the Obama administration, then–Secretary of Defense Ash Carter announced that transgender people could openly join and serve in the military starting on July 1, 2017. But in June of this year, Secretary Mattis postponed the policy's start date by six months, and called for more study on the impact of recruiting transgender individuals. Then, on July 26, President Trump tweeted that he would be banning transgender individuals from the military, due in part to "tremendous medical costs." (As a reminder, the Pentagon reportedly spends five times more on erectile-dysfunction drugs than it does on transgender services.)
Mattis's announcement impacts thousands of military men and women who can continue to serve for the time being, but who remain uncertain about their future. According to a 2016 study by the RAND corporation, there are between 2,500 and 7,000 transgender troops on active duty. The study also found that paying for their health care would only amount to about $8 million a year, and the effect their presence would have on military readiness would be negligible.