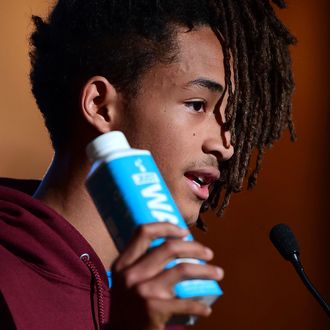 Jaden Smith.
Photo: Frederic J. Brown/AFP/Getty Images
Things aren't going so well for Hampton Creek, the once-lauded start-up behind Just Mayo, an eggless mayo that people seem to like. A few weeks ago, the entire board aside from CEO Josh Tetrick resigned en masse.
Now, the company is facing a trademark dispute from Just Goods, an environmentally conscious bottled-water start-up (cool word combo there) backed by Jaden Smith. Smith, the star of After Earth, is the son of actors Will Smith and Jada Pinkett Smith. The company operates out of a repurposed Catholic church in upstate New York.
According to Bloomberg, Just Goods believes Hampton Creek is violating a trademark agreement the two companies reached in 2014: "Just Goods alleges that Hampton Creek revised its brand to emphasize the word 'just' after encountering legal or marketing difficulties in the course of its business."
All of this centers around the word just, because Smith's company alleges that it needs to give permission for how Hampton Creek emphasizes the word on its products. It claims that the maker of Just Mayo is causing market confusion.
Smith has yet to comment on his lawsuit against the imitation-mayo "tech" start-up, though he has used the word just on Twitter a few times.