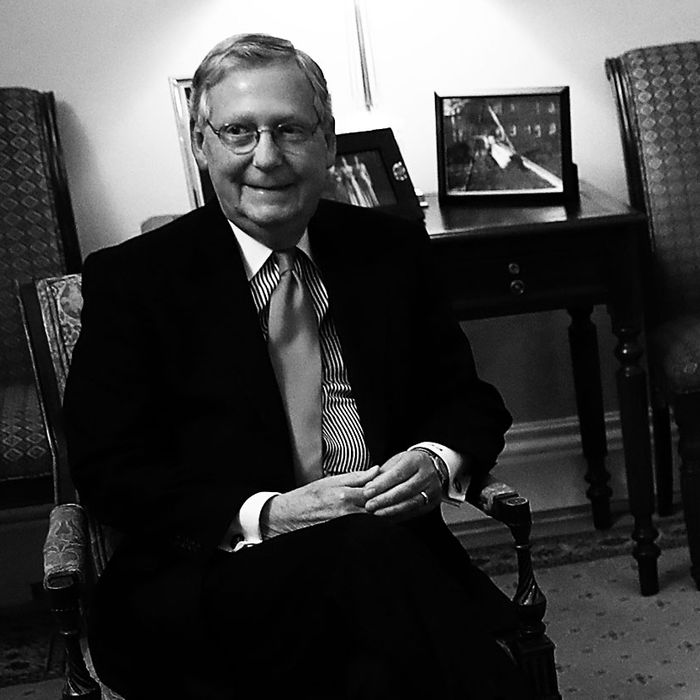 Mitch McConnell and Steve Mnuchin went on a field trip Monday.
Photo: Win McNamee/Getty Images
Mitch McConnell has been having a rough couple of weeks. Since he failed to wrangle enough GOP votes to pass even a skinny version of an Obamacare repeal bill, he and the president have been on the rocks — according to the New York Times, one of their recent phone calls "quickly devolved into a profane shouting match." So he cheered himself up the way anyone would: by going to look at $186 billion worth of gold.
McConnell and two other Republicans — U.S. Representative Brett Guthrie and Kentucky Governor Matt Bevin — accompanied Treasury Secretary Steve Mnuchin to the vaults at Fort Knox on Monday as part of the first civilian delegation to see said gold in more than four decades, according to the Lexington Herald-Leader. He told the paper he'd never thought to visit the vaults, but "it just kind of came up as a result of a casual conversation" with Mnuchin, and he jumped at the invite. Inside the vault he reportedly picked up a 27-pound gold bar, which is known to have a soothing effect on Republican leadership.
Mnuchin told the Herald-Leader that it was important to him to go and look at the gold because "it's part of our national assets." Also on the trip was Mnuchin's wife, Louise Linton. And although it's unclear whether she actually joined him inside the vaults, we hear she had a great #daytrip to #Kentucky! in her #hermesscarf.