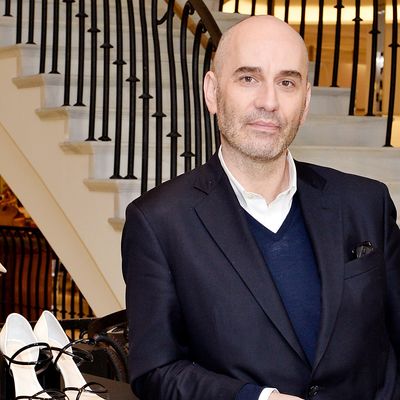 Fabrizio Viti.
Photo: 2017 Stefanie Keenan/Getty Images
Fabrizio Viti prefers Charlie's Angels to Marina Abramović. This becomes clear early in our conversation. Viti recently launched his own eponymous collection after bringing his mod aesthetic to some of the biggest names in fashion (Gucci, Louis Vuitton, Prada) since he graduated from design school. The shoe designer sees each shoe as a sculpture: a stand-alone piece rather than one layer of a look in a collection.
The most recent collection, titled "Violets for your Fur, Part 2," is a pretty good indicator of Viti's aesthetic. The furs and rich colors are hopelessly romantic and feminine, but still rife with idiosyncratic details: mustard suede, a fur sock. Viti sat with the Cut to talk about working with Marc Jacobs and Nicolas Ghesquiere, the pressure to name modern art as an inspiration, and his penchant for '60s TV shows.
Were you interested in fashion as a child?
I have always attracted by women's beauty and women on TV.
I watched a lot of TV; when you are just a kid there's nothing to do in a small town. There was Charlie's Angels at the time, which was clearly something fantastic. But then in the late '70s, when I was about 10, there was an explosion of prêt-a-porter in Italy — Gianni Versace and Giorgio Armani became popular names. In the '70s, fashion became more democratic. So I realized it could be a job to design things. I didn't know that it would be this tough, but there's always a price to pay, right?
How did you gravitate toward footwear?
I started working in the early '90s and there was an explosion of accessories. Before that, big names like Versace or Valentino didn't really focus on accessories. With Prada and Gucci it has changed, because Prada and Gucci started as accessories brands.
I was always always very charmed by shoes. I was born in Carrara, which is a small town. Everything you know from Michelangelo to modern art is from Carrara, and in Carrara there is nothing to do but go to the art school.
So I went to the sculpture school. And doing shoes to me is like doing a little sculpture because the shoe is an object that can stand on its own. The dress is soft, and you need the body. The shoe — of course you need the foot, but it's an object that can have more of a life of its own.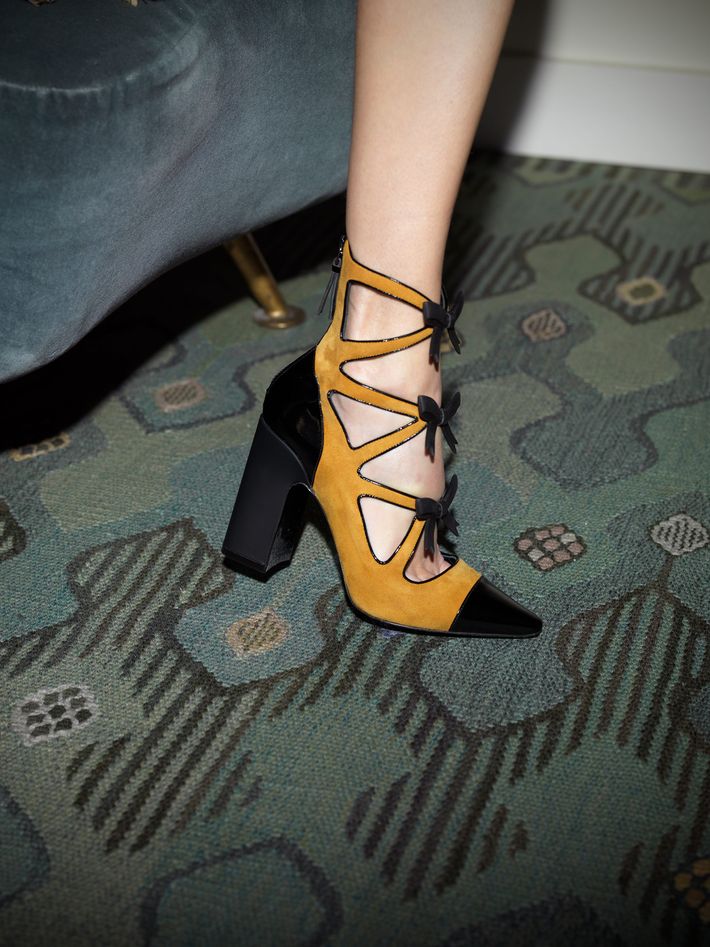 How do you approach making shoes?
I have to be honest with you: I never sit down thinking I'll do something different or new. To me, this is my every-day job. It's like an exercise. I sit down and I think what I'd like to do (for my own line; for Louis Vuitton it's a whole different process). I'm not here to change the world of shoes. There is no drama, there is no kind of special statement I want to do — I just want to be specific. And when I sit down to design, I want to design something that I like.
I enjoy design, I enjoy the process. When I get excited I know it's the right thing. And normally when I get excited, people like them. It's not just for myself.
You've mentioned before that the daisy motif in your shoes is inspired by Mary Tyler Moore.
And Bewitched. I was looking at those TV shows quite a lot.
What about those shows interests you? Are they a continual source of inspiration or just for the daisy collection? 
No, that is my aesthetic. I'm not someone who would turn and make a whole project around Marina Abramović because that is not what I am attracted to. I am much more attracted by a picture than a piece of contemporary art, which is something you are not normally allowed to say. Because they're like, "No you should talk about art and how you're influenced by contemporary art." I'm like, I'm not. Mary Tyler Moore, Charlie's Angels, Donna Summer, who is the love of my life, they are part of my brain. They will be there forever.
How did you decide to start your own collection? 
I'm in a very good moment of my life, maybe because I'm growing old. I'm quite happy, and I thought it was the right time to share this good mood with the world.
What is your favorite piece from the current collection? 
It's the yellow boot with the black bow. It's a great shoe because in a way it's a boot, the heel is not super high, and it's very graphic. The shape is kind of delicate but the heel is chunky and the whole construction of the boot is very graphic.
What are three words you'd use to describe your collection? 
"Joyful." One for sure is joyful. The second could be "wearable" — I know it's banal, but it's true — and the third could be … I don't want to say "personal." Maybe personal because it's my point of view. No, "considered."
Joyful, wearable, considered. Wearable is important.