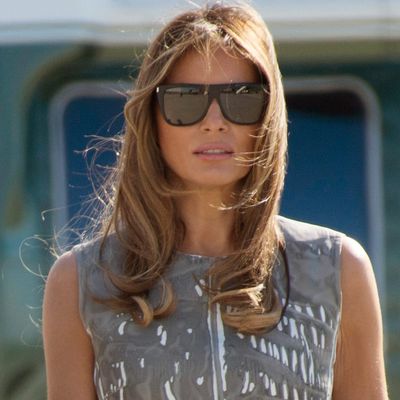 Melania Trump's role as First Lady is great for her home country.
Photo: SAUL LOEB/AFP/Getty Images
Donald Trump winning the U.S. presidential election might be one of the best things that's ever happened to Slovenia. According to a CBS News report, the country is experiencing a tourism boom — in part because it's the home country of American First Lady Melania Trump.
The Slovenian Statistics Office told CBS that, as of Monday, 1,939,000 tourists had visited the country in the first half of the year — a 15-percent increase from the same period last year. And the number of American visitors has increased significantly — it's risen 15 percent since Melania's husband took office in November.
Melania, whose hometown is Sevnica, left Slovenia when she was in her 20s to pursue a career in modeling. According to CBS, she hasn't been back since 2002, when she introduced Donald to her parents. But much of the country's tourist industry is now structured around her — travel sites reportedly advertise her connection to the country, visitors have their pick of "Melania Trump tours," and in Sevnica, you can buy First-Lady branded face cream, chocolates, wine, and apple pie.
"Yes, she's President Trump's wife, and that's what she's known for," said Sevnica mayor Srecko Ocvirk. "But we want to focus only on her." Fair.