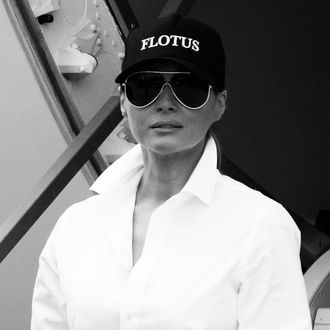 Donald and Melania Trump.
Photo: Evan Vucci/AP
There was no symbol during the presidential campaign as visually ubiquitous as the loud, red "Make America Great Again" baseball cap worn by Donald Trump and his supporters. It inspired scores of knockoffs in the fashion world, while the Trump store seized on its popularity and expanded its hat line. The president himself has been partial to wearing the "USA" ones lately, because nothing's too on the nose for this administration.
And on Tuesday, Melania Trump made the jump into branded hat territory herself when she and the president touched down in Houston, as the city grapples with Tropical Storm Harvey. She chose to accessorize with a "FLOTUS" hat — perhaps a helpful reminder for her husband, who's been having some confusion issues lately.