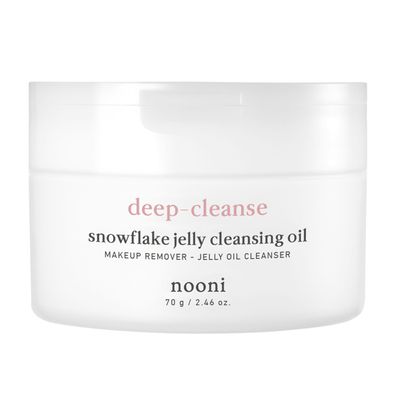 Nooni Snowflake Jelly Cleansing Oil
Photo: Courtesy of nooni
In Korea and Japan, jelly is a hot commodity in skin care. This is not the kind of jelly you put on toast, or even the "royal" type that comes from bee poop and gets injected into fancy French creams. Rather, it's a new breed of light, jiggling cleansers and masks that moisturize without suffocating your pores.
My current favorite is the Deep-Cleanse Snowflake Jelly Cleansing Oil, from a brand called Memebox. It's one of 19 items from the Nooni line, which is full of fun-to-use products dedicated to dewy hydration. Everything feels a bit like a science experiment: There's a "Water Blending" lip mask, a set of sheets for DIY sheet masks, and a "Whip Cleanser" that looks a lot like shaving cream.
And then there's the Snowflake Jelly, which removes makeup, oil, and other extraneous face grime. The jelly has a light, air-whipped texture, like hair gel minus the tackiness, and smells lightly of flowers. (Why is it called Snowflake? Your guess is as good as mine.)
To use, scoop a pea-size dollop onto your dry face and massage all over. As you rub it in, you can feel dirt granules and makeup loosening on your face. It's kind of gross, but deeply satisfying.
After a minute or so of massaging, splash water on your face to remove the jelly and you're done. The formula contains coconut oil, shea butter, and vitamin E, which gently drive out pore sludge without drying skin like a clay mask or alcohol toner might. Most oil cleansers require a second wash from a different product, but not this one — the only thing it leaves you with is soft, clean skin.
If you buy something through our links, New York may earn an affiliate commission.