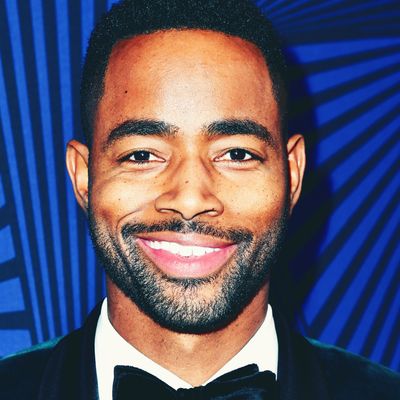 Lawrence is their Beyoncé.
Photo: Earl Gibson III/Getty Images for BET
On a Sunday night earlier this month, Jay Ellis, the actor who plays Lawrence on Insecure, threw up the 2017 internet version of the Bat signal: a tweet, calling for fans of the show to come watch it with him in the lobby of New York's Hotel Arlo SoHo.
He went out to dinner and came back about an hour or so later to find 200 people, including me, waiting for him in the hotel's bar lobby, at 9:30 p.m. on a Sunday. They cheered when he showed up. Ellis hustled up to his room to put on a better outfit, came back down, and saw 200 more cheering people had assembled in the bar lobby — it was more than had showed up for the hotel's Game of Thrones watch party earlier that night, I observed.
Finally, about 15 minutes before the show started, the manager told Ellis, "I'm sorry but we're at max capacity. No more of your friends can come in," he recalls, still sounding sort of in awe when describing it to me a few days later.  "I was like, I don't know these people! I just tweeted this out, it was a joke!"
Jay Ellis is a pretty cool guy with a nice smile, but he probably can't get 400 actual friends to come hang out with him at 10:30 p.m. on a Sunday night. Nor was the crowd "a cult," as I overheard one passerby speculating.
Rather, the crowd that has showed up this particular Sunday night — mostly young, mostly black, consistently and overwhelmingly cool — is a hive; specifically, the #LawrenceHive, a passionate, vocal, Twitter-centric group of men (and a few women) who really really identify with Lawrence. They take their name from another passionate Twitter-centric fan club, the #Beyhive (they even co-opted the Lemonade album cover). And they assemble on Sunday nights sometimes with each other IRL, but mostly on Twitter to livetweet along with the show, with other fans. Ellis himself often joins in and responds to fan questions and squabbles.
Watching episode 4, "Hella LA," in the company of the Hive is a highly interactive viewing experience. Certain scenes get huge cheers (Lawrence evading a ticket from a white cop, a freak dance scene set to Juvenile's "Slow Motion"); others, audible groans (Issa getting rejected by a Tinder date, Lawrence ending the episode parked outside of his ex's apartment complex). Some moments prompt huge outbursts from the women in the audience, while others — like Lawrence having a threesome — get male viewers whooping like they were at a Final Four game. At some point a Law-rence, Law-rence chant erupts, only to be met with a female response: fuck Lawrence, fuck Lawrence!
"Oh, I'm definitely team Lawrence," a bald, bespectacled gentleman of about 40 tells me, while trying to flag down a bartender after the screening. He'd seen the tweet and come in from Brooklyn to watch the episode. Coincidentally, his own middle name is Lawrence, but he says that only had a little bit to do with his identification with Ellis's character. "Lawrence got cheated on and reacted just like I would, or just like any regular man would," he explains. Then Ellis enters the bar for a meet and greet, and Middle Name Lawrence quickly abandons our conversation (and his attempts to obtain a $14 Manhattan) to go shake his hand. Ellis is immediately mobbed by fans trying to get a picture, a dap, or a hug. Women rush up to say "Screw Lawrence!" and ask for a picture. Ellis winds up staying at the bar until 1:30, buying people drinks, shaking hands, and fielding compliments from men who liked his outfit and really really got Lawrence.
The Hive first popped up last November, at the end of the season one. Fans of Insecure will remember that this was a turning point for Lawrence. He'd spent the whole run of the show as a slug boyfriend to Issa (Issa Rae): an unemployed, unmotivated Georgetown graduate who was happy in a mediocre relationship, halfheartedly trying to get his app idea off the ground. In a soul-crushing low point, he started working at Best Buy. Then Issa cheated on him, they broke up, and he concluded season one by sleeping with a nice bank teller named Tasha. The Hive was joyous —suddenly, Lawrence was a no longer a "zero" but a hero for "bustin' her back out." For a certain segment of men on the internet, it was a real unifying moment — a reverse Lemonade.
This season, single Lawrence got a notable glow-up (he's … so hot now), a new job, a new apartment, some new attention from women, and — with all that — a bigger fan base: According to Twitter, the #LawrenceHive has averaged about 45,000 tweets a week over the past three episodes. Charlemagne tha God is a vocal member of the Hive, often tweeting and Instagramming his support.
Hive member Aaron Rhodan, owner of Licks & Stains, created a limited run of Lawrence polo shirts (Best Buy blue, naturally). Explaining the appeal of Lawrence over email, he said that he'd never seen a character like this on TV.
"He's pretty everyman, in my opinion," Rhodan writes. "And for once we have a guy - a Black guy at that - on TV that really hasn't done anything wrong (yet…hoping it stays that way) who you can root for without feeling guilty about it. Sure it's not stopping the Men-Are-Trasher's from Men-Are-Trashing but ain't nobody bout to steal my joy. God bless that man."
Lawrence has spent the show's second season learning to navigate work and life as a single guy, and the Hive has charted his wins and losses from episode to episode. They tweet him compliments. They really like it when he gets laid (in fact, their enthusiasm is such that I often wonder if Lawrence's TV sex life is a surrogate for the Hive's). They tweet their congratulations at his successes and their embarrassment and hesitant support at his failures. When he loses, they beg him to get that W next week. When he deals with racial issues, men chime in with their own experiences. No matter what he gets up to, no matter how many times he dogs Tasha at her own family barbecue, the Hive has his back — though that was, admittedly, a trying moment for some members.
On that note, I ask Rhodan how the Hive can spend so much time defending Lawrence's grosser behavior (a tendency that sometimes devolves into misogynistic slaps on the back). Here, for example, a standard support 'gram from Charlamagne, lauding Lawrence for questionable exploits:
Why does the Hive keep defending Lawrence when he's clearly being a fuckboy — or, as he's labeled in episode three, "a good dude who doesn't realize he's a fuck nigga"? (Women who tweet at the Hive really liked that label. These Twitter conversations often erupt into a full-on battle of the sexes debate.)
"Fuccboi ? Lol. Aww boo your hurt is showing tuck that in," Rhodan emails me. (Okay, #LawrenceHive.)  "Although I was a big fan of Tasha's—she's hella bad and hella cool— my mans did everything right, he's just hella awkward turtle. Did he make a rookie mistake? Absolutely. But if that makes him a 'fuccboi/fuck nigga' then the rubric needs to be checked because it leaves no space for honest mistakes."
"Okay, he was a complete fuckboy in episode three," Ellis says. "But he did it from a place of like 'I'm messed up.'" But, while Ellis goes on to defend Lawrence's awkward threesome in episode four (for the Hive, a great moment of triumph), he also points out that what a lot of men are responding to is Lawrence's emotional vulnerability. "When do we ever get to talk about how men react when they're cheated on?" he asks.
Insecure has been lauded for creator Issa Rae's portrayal of black female experience. The show gives heroines like Issa and Molly space to be messy and mess up, to make bad decisions that feel eerily familiar for a lot of viewers. Less often discussed is the way the show has spoken to black men.
"This is a part of that conversation," says Ellis. "Men have feelings, too, and want those feelings to be heard. Even if we don't know how to articulate them in the best way— I know I don't, I'm a total baby — but still, we want them to be heard, and I think that's where this conversation starts to bubble, and you hear perspectives. "
Mixed in with the semi-crude and sophomoric excitement over a grown man getting laid, and the defenses of male misbehavior, what's at the heart of the LawrenceHive's loyalty is this sentiment. Or, as one Hive member put it at Hotel Arlo, with surprising earnestness, when I asked why he liked Lawrence so much: "It's about feeling seen."