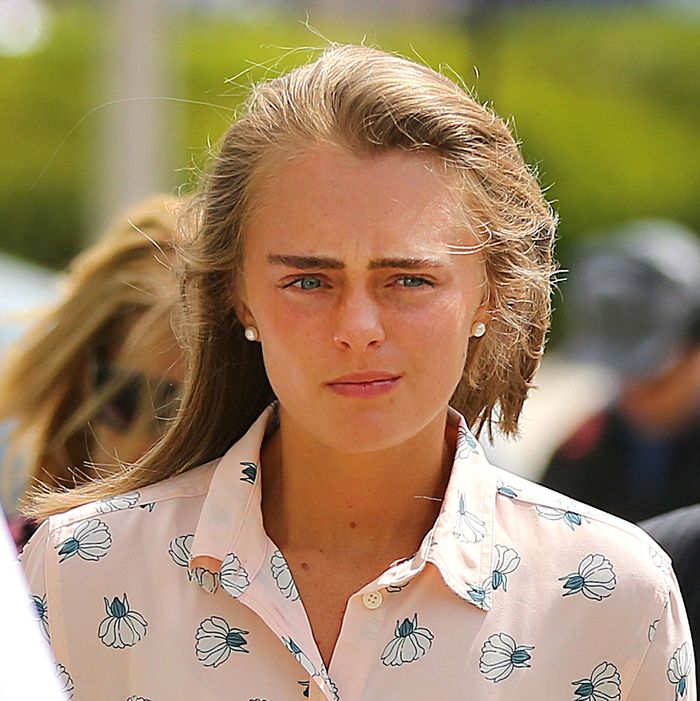 Michelle Carter.
Photo: Boston Globe/Boston Globe via Getty Images
Michelle Carter, the Massachusetts woman found guilty of involuntary manslaughter after encouraging her boyfriend to commit suicide, is now being sued by the young man's mother for $4.2 million.
Text messages presented in the trial show Carter urging her then-boyfriend, Conrad Roy, to kill himself. Carter instructed Roy to buy a generator and use it to fill his truck with carbon dioxide. When he hesitated, she chastised him for not going through with the act. And when he questioned his decision while his truck was filled with hazardous fumes, she told him to "get back in" the vehicle.
On Thursday, Carter was sentenced to serve 15 months in jail. She is currently out on probation until a Massachusetts court rules on her appeal. The rest of Carter's original 2.5-year sentence has been suspended until August 1, 2022.
The criminal case hinged on whether or not her words made her responsible for Roy's death — the court found that they did. Now, the lawsuit, obtained by Radar, makes a similar charge.
The suit argues that Carter's words and actions reflect "gross negligence, and/or her willful, wanton and/or reckless conduct," and ultimately contributed to the cause of Conrad Roy's death.
But, Amanda Knox, the young woman accused of murdering her roommate in Italy in 2007, has now come to Carter's defense. Knox's trial was similarly high-profile, but after spending four years in an Italian jail, she was eventually acquitted. Writing in an op-ed in the Los Angeles Times, Knox says that even Carter's 15-month sentence is "too much." She called on readers to grant Carter sympathy and help, not prison:
It's hard to feel sympathy for Michelle Carter. It's also hard to feel sympathy for drug addicts or to understand obsessively suicidal adolescents. Even so, we have to try. Just because it's hard to feel sympathy and understanding, that doesn't mean it isn't the right — and just — thing to do. Conrad Roy III needed our sympathy and our help and didn't get it in time. Michelle Carter deserves the same sympathy and help now.