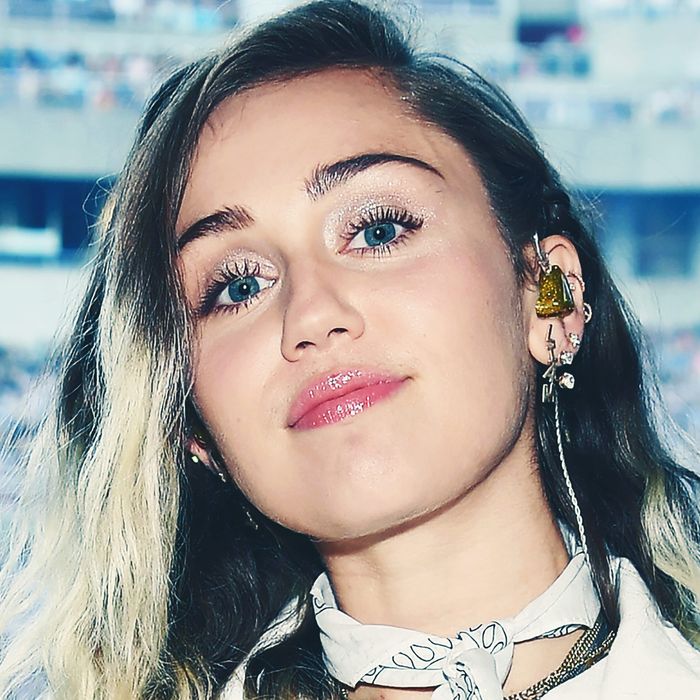 Miley Cyrus.
Photo: Dave Kotinsky/Getty Images for iHeart Media
Miley Cyrus's upcoming VMA performance is said to have some "behind-the-scenes" drama going on — specifically, about raunchy puppets.
"Page Six" reports Diane Martel, the director of Cyrus's new "Younger Now" music video, was overheard "loudly lamenting" the gig at the Four Seasons Cabana Restaurant in Los Angeles. The gossip column claims Martel, who is also involved in Cyrus's performance, was overheard talking about how Cyrus's team couldn't decide how to fill the minute she will be onstage before she's supposed to start singing. Per "Page Six":
Referring to herself as "Miley's creative director" during her rant on Thursday, Martel was overheard saying she envisions Cyrus doing a raunchy puppet show sketch to "show off her acting chops" and to jibe with the new single's music video concept. There was talk of a "puppet orgy," as well as an idea where one puppet "sniffs Miley's privates" after she makes a joke about "keeping it clean down there."
But Miley's manager, Adam Leber, would rather Cyrus use the time before she starts singing to "make headlines" by talking about Donald Trump, instead of dealing with puppets, Martel reportedly said.
Martel was then overheard calling Leber a "stupid a–hole manager," while an assistant compared working with Leber to working with a "smart little kid."
However, after "Page Six" reached Martel for comment via email, the director replied, "No friction! Excitement! Mileys number will be sunrising and emotional, her new some [sic] younger Now is beautiful and contemplative and self written."
Oh, well, raunchy puppet show or not, at least we already know there will be plenty of other drama at the VMAs.