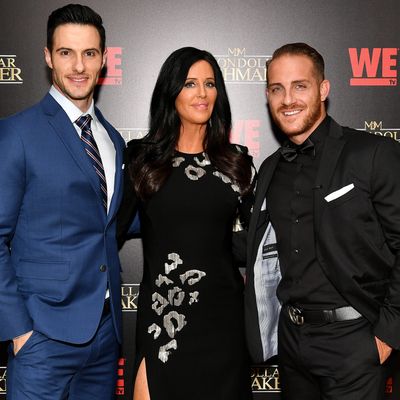 Daniel Maguire, Patti Stanger, and Vinny Ventiera at the
Million Dollar Matchmaker
premiere.
Photo: Dia Dipasupil/Getty Images
Sitting at a cocktail table in the basement of a brightly decorated uptown hotel, a Bachelor star tells me he's here for the wrong reasons. His name is Daniel Maguire, and he is a lethally built 32-year-old personal trainer who's appeared on The Bachelorette and Bachelor in Paradise. (Perhaps you remember him as the guy who stripped down and jumped into the Bachelor Mansion's pool on the first night of Jojo's season.) Tonight, we're celebrating his latest score: a star turn on We TV's Million Dollar Matchmaker, a show that helps millionaires, or failing that, reality-TV stars who could one day be millionaires, find love. Hosted by the indefatigable Patti Stanger, late of Bravo's nearly identical Millionaire Matchmaker, the program has become yet another destination for young, beautiful people hoping to make a career out of dating on television.
"I like to do TV for numerous reasons," Maguire explains, leaning into my face so that I can hear him over the speakers blasting Miley Cyrus's "Party in the USA." "The dating part is just a small part of it, and is not that realistic often. I know that … I do it for an experience. I do it to meet people, have laugh, get a free trip, get some free alcohol, and meet a girl possibly."
"I'm not just going to lie to you and say, 'I'm doing it just to find a girlfriend,'" he grins. "You have a better chance of finding a girlfriend in the bar tonight."
I believe him. The crowd at the premiere is made up almost exclusively of women: journalists, publicists, and former Real Housewives who are friends with Stanger (Jill Zarin chief among them). When I first approached Maguire for an interview, he was chatting up a petite brunette at the open bar, telling her that he's not really a bad guy, it's just the editing.
Million Dollar Matchmaker, like any reality show, is a carefully choreographed program that depends on the ridiculous behavior of its stars. In each episode, Stanger works with two rich or famous or almost-famous singles, putting them through a series of personality tests and dating games to help them meet their matches. The premiere, which airs tonight on We TV, features Maguire and fellow Bachelor alum Vinny Ventiera. Maguire presents as, uh, confident: He tells the camera he's "easily dated 100 girls," and he spends almost a full minute staring at a date's breasts, before telling her that she has nice breasts. Meanwhile, Ventiera moons over the women and talks about introducing them to his mother. Through it all, Stanger offers her long-practiced real talk, telling Maguire that he's a narcissist and Ventiera that he's a momma's boy. In the end, both men find dates with nice breasts.
"I knew that they were going to edit me to be the cocky and arrogant one," Maguire tells me, flatly. "Often that's what people misinterpret me for."
It doesn't matter, though, what people think of him. "You call me cocky or confident, I don't really care," he adds. "Narcissistic — if I am narcissistic then I might as well become president of the States." (Maguire is from Vancouver.)
If Maguire is mad about his portrayal on Million Dollar Matchmaker — which of course he's not — he can rest assured that audiences won't dwell on it. He will appear on two more reality shows this month alone. On Sunday, Maguire and other Bachelor alums will face off on Celebrity Family Feud, and then Paradise starts up again at the end of the month.
And then? "After that, there are talks of me and Vinny having our own show," Maguire says proudly. "I think a lot of people find us entertaining."