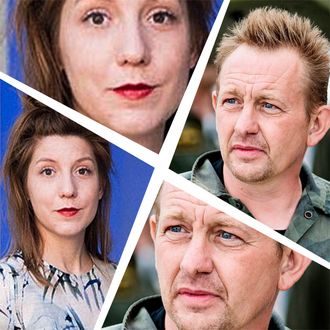 Kim Wall, Peter Madsen.
Photo: Courtesy of Kim-Wall.com, Getty Images
Police are one step closer to solving the case of missing Swedish journalist Kim Wall, last seen on August 10 while writing a story about Danish inventor Peter Madsen. Madsen is now saying that Wall died in an "accident" aboard his submarine and he "buried her at sea."
Per the Local, Copenhagen police released the following statement:
"The accused has told police and the court that an accident occurred on board the submarine which caused Kim Wall's death, and that he subsequently buried her at sea at an unspecified location somewhere in Køge Bay. Copenhagen Police can additionally confirm that the current charges remain in place. No further information will be given with regard to the investigation of the case, since it is being conducted behind closed doors."
As of last week, police were working under the presumption that Wall was dead and that they were searching for a body.
Wall boarded Madsen's homemade submarine, the UC3 Nautilus, on August 10 for a story she was writing on the inventor. Her boyfriend alerted authorities when she didn't return home, though Madsen claimed he had dropped her off at the Copenhagen harbor that evening.
Curiously enough, the submarine sank the following morning; Madsen initially said the sinking was due to a technical failure, though both a changed statement on Madsen's part and the general circumstances made him a suspect. He was arrested and charged with negligent manslaughter, though he continued to insist that he had nothing to do with Wall's death. He's looking at five years to life in prison if tried and charged.
Danish and Swedish authorities are still searching for Wall's body.