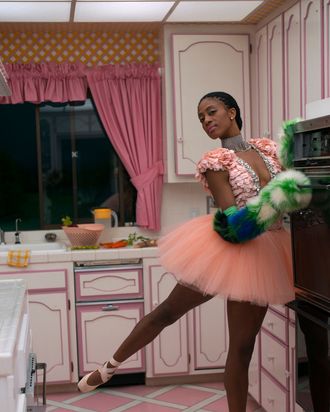 Behind the scenes of Celia Rowlson-Hall's
(The [End) of History Illusion].
Photo: Brigitte Lacombe
Now in its sixth year, Miu Miu's "Women's Tales" film series has featured works by Chloë Sevigny, Miranda July, and Ava DuVernay. And on Thursday, the newest episode directed by choreographer-dancer-filmmaker Celia Rowlson-Hall premiered at the Venice Film Festival.
Titled, (The [End) of History Illusion], the short work combines 1930s Hollywood musicals and 1960s Cold War nightmares into an apocalyptic tale of commercialism, fear, and escapism. It opens with an infomercial-like saleswoman wearing a Miu Miu fall 2017 fur coat and two men tap-dancing behind her. "Wouldn't it be a dream come true in these trying times to own your own luxury, underground home?" she says. "Well you can wake up now, because this is reality."
For the next 13 minutes, viewers get a tour inside this underground dream bunker as well as a glimpse at what life would be like if we could hibernate for a year rather than dealing with the world's problems. It's a humorous, surreal take on the very real threats we face today, from climate change to warfare. And as nuclear sirens blare, the characters realize they might still be living a nightmare.
Watch the full film, here.