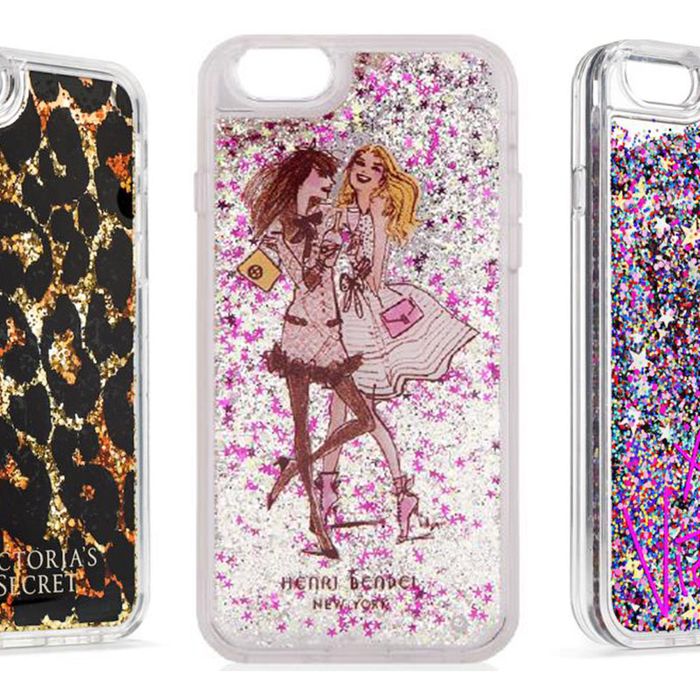 MixBin iPhone cases.
Photo: U.S. Consumer Product Safety Commission
If you're one of those people who go through life with their iPhone in a liquid-glitter case, you might want to be careful. The U.S. Consumer Product Safety Commission on Monday recalled certain models of a popular liquid-glitter case from MixBin electronics due to risk of chemical burns.
As ABC News reports, 24 people across the world — including 19 in the U.S. — have reported experiencing skin irritation or chemical burns after their liquid-glitter iPhone cases leaked. One person apparently reported permanent scarring, while another had burns and swelling on her leg, face, and other body parts, a spokesperson for CPSC, Patty Davis, told ABC News.
The phone cases in question were made by MixBin for iPhone 6, 6s, and 7. The cases were sold for $15 to $65 at a variety of retailers — including Henri Bendel, Amazon, Nordstrom Rack, MixBin, Tory Burch, and Victoria's Secret — between October 2015 and June 2017. "If you do have these, we urge you to act quickly, get these out of your home, contact MixBin electronics. They will give you a full refund," Davis told ABC News.
To find if your model of glitter iPhone case has been recalled, check out the CPSC website. In the meantime, perhaps you should consider a furry iPhone case that surely won't leak anything?
(h/t Jezebel)