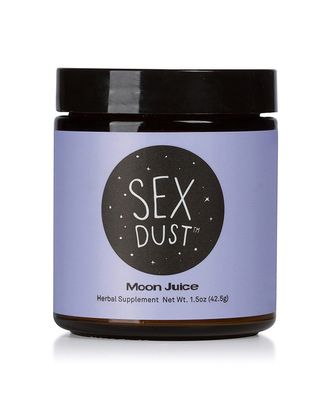 Moon Juice's Sex Dust.
Photo: Courtesy of Moon Juice
Moon Juice, the hippie wellness brand loved by Gwyneth Paltrow and other pseudoscience experts, will soon be stocked at Sephora. Women's Wear Daily announced today that the Amanda Chantal Bacon company has entered into a partnership with the beauty retailer where Moon Juice's Beauty Dust — a powder supplement said to rev up your skin's luster — and Full Moon — a sampler box of Beauty, Brain, Sex, Power, Spirit, and Dream dusts — will be sold in 25 Sephora stores and on sephora.com beginning September 15.
The publication added that the fall launch is part of a larger push to introduce Moon Juice to all Sephora locations, and to position Moon Juice as a robust beauty brand. This all sounds great, but if Sephora doesn't already have a solid theft-prevention-and-reduction policy in place, they'll need to buckle up for some elevated plant-sourced drama.