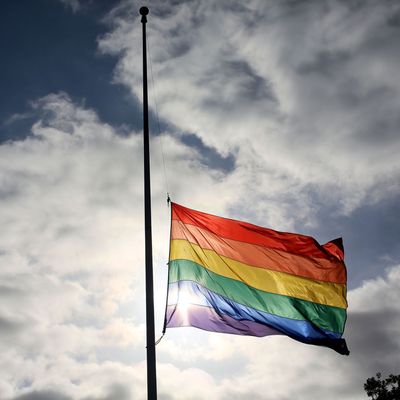 A new report suggests violence against the LGBTQ community is ongoing.
Photo: Sandy Huffaker/AFP/Getty Images
A new report from an LGBTQ-advocacy group suggests that more LGBTQ people have been victims of hate-violence-related homicides in the first eight months of 2017 than in all of 2016. According to BuzzFeed News, as of August 2017, the National Coalition of Anti-Violence Programs counted 33 hate-violence-related homicides of LGBTQ people in the U.S. In 2016, there were a total of 28 (not including the 49 people murdered at Pulse nightclub in Orlando).
About half of those killed this year were transgender women of color, and at least 12 were cisgender gay men. BuzzFeed notes that last year, about one LGBTQ person was killed in a hate-violence-related homicide every 13 days — so far, this year's numbers translate to one death every six days.
It's unclear whether the spike is due to an actual uptick in killings, or an increase in the number of deaths being reported. Beverly Tillery, executive director at the New York City Anti-Violence Project, said that either way, the report "should be a wake-up call for us across our communities that hate violence is not going away, it's certainly not decreasing, and it's symptomatic of larger and deeper problems in our society."
It's also important to note that the NCAVP's report isn't definitive — Dallas Drake, a senior researcher at the Center for Homicide Research said that the number of killings typically goes underreported, especially "where cases are not easily identifiable as LGBT homicides."
Not all of the cases in the NCAVP report were officially classified as hate crimes by police, but one LGBTQ anti-violence program manager said that's why the report is so important: because it uses anecdotal evidence to determine whether a victim was likely targeted for their sexual orientation or gender identity.
The report comes after the Trump administration made several small administrative decisions (such as deciding not to include questions about sexual orientation and gender identity on the 2020 Census; revoking guidelines that protect trans students; and declining to officially recognize Pride Month) undercutting LGBTQ progress. The president's recent tweets about trans troops in the military also led to a "dramatic" spike in calls to a national LGBTQ suicide hotline.