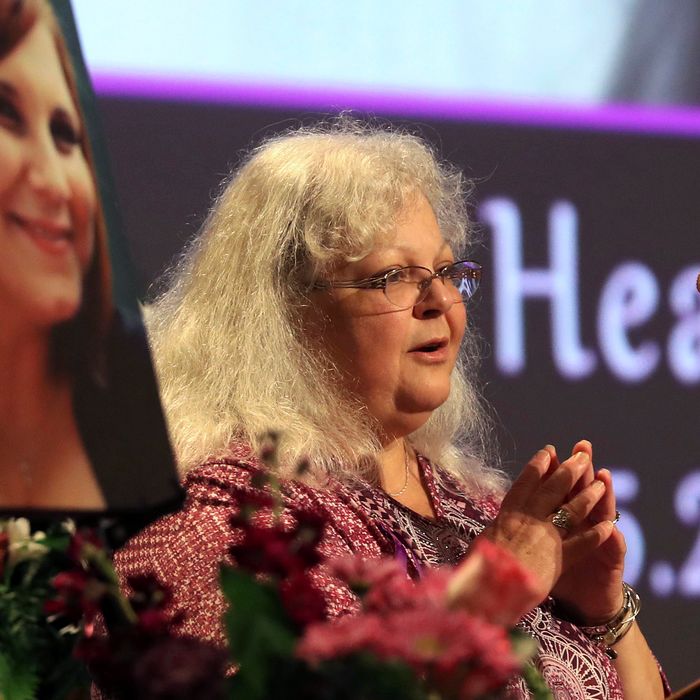 Susan Bro.
Photo: Pool/Getty Images
The mother of the young woman killed in Charlottesville during a counterprotest to a white-nationalist rally has said she will not be speaking with President Trump directly — and she doesn't want to.
Susan Bro appeared on Good Morning America and spoke with Robin Roberts. Her daughter, Heather Heyer, was killed after a car struck a group of protesters. When asked if Bro had spoken with President Trump directly, Bro responded, "I have not, and now I will not."
"I'm not talking to the president now," Bro continued. "I'm sorry — after what he said about my child. And it's not that I saw somebody else's tweets about him. I saw an actual clip of him at a press conference, equating the protestors like Miss Heyer with the KKK and the white supremacists."
President Trump had said at a press conference on Tuesday, "You had one group that was bad, but you had a group on the other side that was also very violent. And nobody wants to say that but I'll say that right now."
Trump had tweeted twice about Heyer, once on Saturday, the day she was murdered, and again on Wednesday.
On Monday, Bro had released a statement thanking Trump "for those words of comfort and for denouncing those who promote violence and hatred." But she revealed on Good Morning America that she had not spoken to Trump personally and had been receiving "frantic calls" from press secretaries.
"At first I just missed his calls — the first call looked like it came during the funeral," Bro said. "I didn't even see that message. There were three more frantic messages from press secretaries throughout the day, and I don't know why, that would have been Wednesday. I was home recovering from the exhaustion of the funeral so I thought I'd get to them later."
Deputy Press Secretary Lindsay Walters had said yesterday that the White House was "working on identifying a time that is convenient for the family to speak with the president." But Roberts asked Bro to clarify that Trump's statements on Tuesday "changed [Bro's] position as far as the president is concerned and wanting to hear from him."
"Absolutely," Bro confirmed. "You can't wash this one away by shaking my hand and saying I'm sorry. I'm not forgiving for that."
Watch the full clip below.