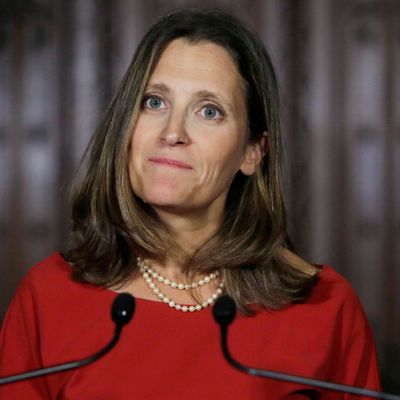 Chrystia Freeland.
Photo: David Kawai/Bloomberg via Getty Images
On Wednesday the Trump administration will begin its first round of negotiations for the North American Free Trade Agreement with Canada and Mexico, and on Monday, the Canadian government outlined its core objectives for the deal. Foreign affairs minister Chrystia Freeland stated that they'd like to make the agreement "more progressive" by including, among other things, gender and indigenous rights.
As the New York Times reports, Prime Minister Justin Trudeau's Liberal government hopes to add "progressive elements" into the 23-year-old deal, Freeland said on Monday in Ottawa. Canada hopes the agreement will strengthen existing provisions relating to the environment and labor safeguards, in addition to addressing climate change and adding chapters on gender and indigenous rights. Those elements, Freeland said, "are how we guarantee that the modernized NAFTA will not only be an exemplary free-trade deal, it will also be a fair-trade deal."
Similarly, Canada recently added its first gender chapter to its free-trade deal with Chile, the Times points out, calling for a gender lens to be applied to trade. Yet, the proposed NAFTA "indigenous chapter" is a "fresh area" for the Canadian government.
The Times notes that, although Canada has sent out lobbyists across the U.S. for the past nine months to help with the trade deal, Monday's announcement marks the first time the government revealed its goals for the talks. The deal is vital to the Canadian economy, and Trudeau has reportedly admitted that Canada has no Plan B for what will happen if it should fail.
"Our approach in these talks will be in keeping with our national character; hardworking, fact-based, cordial, animated by the spirit of good will and the pursuit of compromise," Freeland said. "We also know that there is no contradiction between being polite, and being strong. It is no accident that hockey is our national sport."