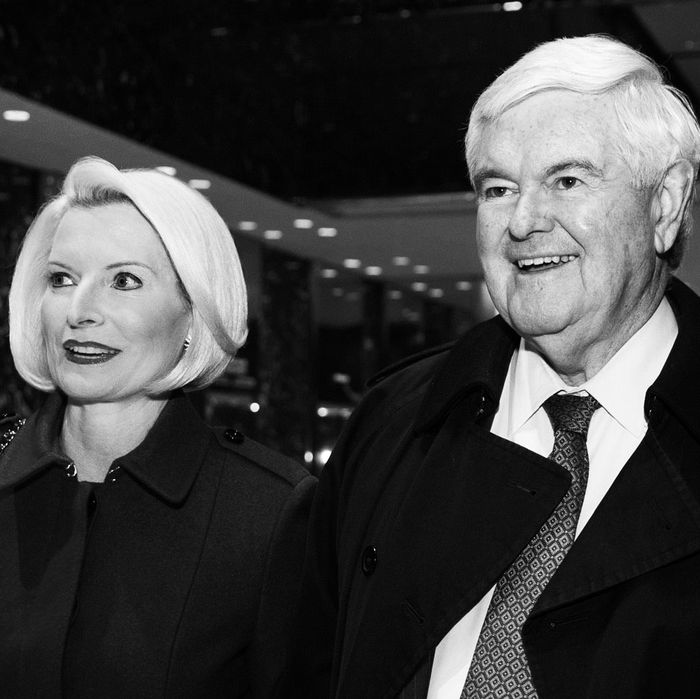 Callista and Newt Gingrich.
Photo: Kevin Hagen/Getty Images
Newt Gingrich is many things: a former presidential candidate, a man with opinions on women's bodies, someone who wants to colonize the moon. But now that his wife, Callista, is set to become a U.S. ambassador, Gingrich will soon take on the role of diplomatic husband as well. And so, he recently enrolled in what he refers to as "spouse school," where he learned all about entertaining, decorating, fridges, and keeping a low profile.
Politico reports that Gingrich recently attended a State Department–sponsored crash course on being the spouse of an ambassador, before he moves to Rome when Callista becomes the ambassador to the Holy See (the U.S. representative to the Vatican). Gingrich reportedly joined 12 other students — 11 women and one man, each of whom are married to incoming ambassadors — for a week of courses ranging from "expectations and personal goals for your time overseas" and "the official residence" to "legal issues and ethics" and "stress management."
But even though Gingrich described the course as "tiring" in an interview with Politico reporter Annie Karni, he also apparently learned a lot. "You always have two fridges," Gingrich told Karni, "one for personal food, one for entertaining, so you're not eating out of the taxpayer refrigerator. I didn't know that." He also learned that "if you invite eight or 10 ambassadors over for dinner, there's protocol for who sits where" and was finally instructed on "how to do interviews."
"I'll be the person at the front door saying, 'Hi, I'm Newt Gingrich. The ambassador will be down shortly,'" Gingrich told Politico. "It's a great new role. Callista supported me in '12 when I ran for president; I get to support her now. And I get to join the spouse organization."
We're sure he'll love not being the center of attention in his new role.