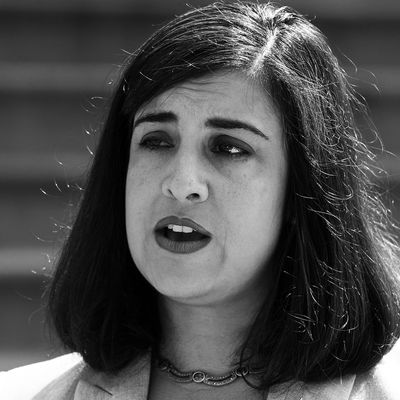 Nicole Malliotakis.
Photo: Drew Angerer/Getty Images
After a deadly white nationalist rally in Charlottesville, Virginia, over the planned removal of a Confederate statue, New York City mayor Bill de Blasio announced a 90-day review of city monuments to remove any "symbols of hate" — which could potentially include a prominent statue of Christopher Columbus in Manhattan. But Republican mayoral candidate Nicole Malliotakis defended the statue on Wednesday, incorrectly referring to Columbus as the "founder of our nation."
The New York Daily News reports Malliotakis, a current Staten Island assemblywoman, told reporters that she thinks de Blasio's announcement about the review "has caused tremendous division" in New York City, and that the divide would only get worse with the potential removal of the statue from Columbus Circle.
"Columbus should stay," Malliotakis said, per the Daily News. "Now even Christopher Columbus, the founder our nation, is under attack."
Columbus, it should be noted, was not one of the founders of the United States of America. Instead, he was a European explorer who oppressed, enslaved, and annihilated native populations during his travels. And, when Wall Street Journal reporter Mara Gay tweeted Malliotakis's quote, the politician said she "misspoke" and accused Gay of "fake news" — even though the only "fake news" came from Malliotakis's own statement.
"C'mon, Mara! I think everyone knows I misspoke…After all 1776 is my favorite musical! #FakeNews," Malliotakis wrote on Twitter. Gay astutely replied, "Yes? I retweeted what your [sic] said. That's not fake news." The politican then tweeted, "Columbus Day will never be the same for me!"
Hey, we've heard worse.