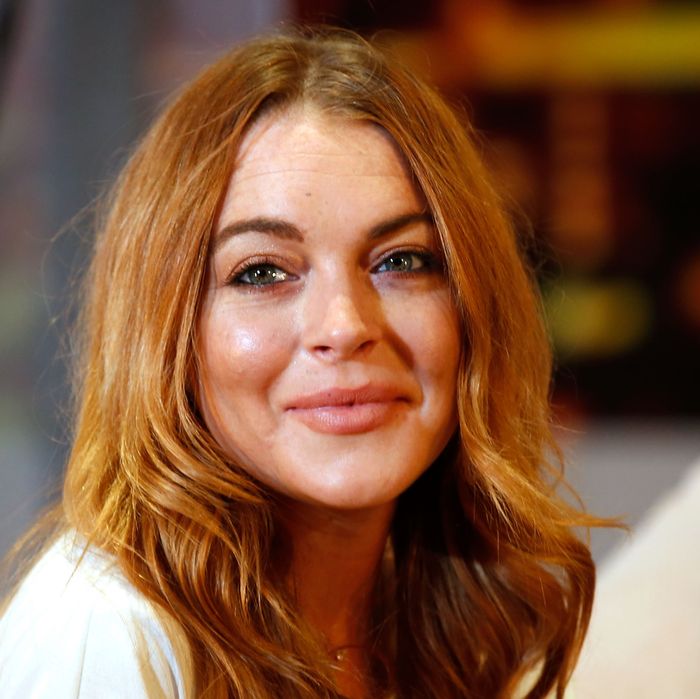 Lindsay Lohan.
Photo: Tim P. Whitby/Getty Images
Actress. Singer. Diplomat. Burkini-wearer. Accused jewelry thief turned jewelry designer. Lindsay Lohan does it all. But it seems the Freaky Friday star's latest enterprise as a lifestyle guru is off to a rough start. In the six weeks since it launched, Lohan's $2.99-a-month lifestyle site is struggling to land subscribers, according to "Page Six."
Lohan announced her Preemium site in June, after deleting most of her Instagram posts (but not all of them, like this one of her and Turkish president Recep Tayyip Erdogan). What exactly does one get for $2.99 a month? According to Lohan's introduction:
I will give you access to all my exclusive content and tell you all my secrets and breaking news before anyone else. You will get personal diaries, video updates, exclusive personal photos, fashion and beauty tutorials, shopping guides, behind the scenes content, my favorite products and much more. To get an all-access pass to my life, Preemium is must-have for all my fans and followers. /LL
And yet it seems the price point may have been too high. According to "Page Six," her record number of likes on the site is 51 "for a picture of her in an elevator with the caption "Hey everyone : )"."
Based on the lightly blurred previews you can see on the page without a subscription, Lohan's exclusive content includes group selfies, songs with a "living free single and alone kind of vibe", and fun trivia, like one post that says: "The month of July this year will have 5 Saturdays, 5 Sundays and 5 Mondays. This only happens once every 823 years." Interesting!
It's no Goop, sure. But maybe that's not such a bad thing.