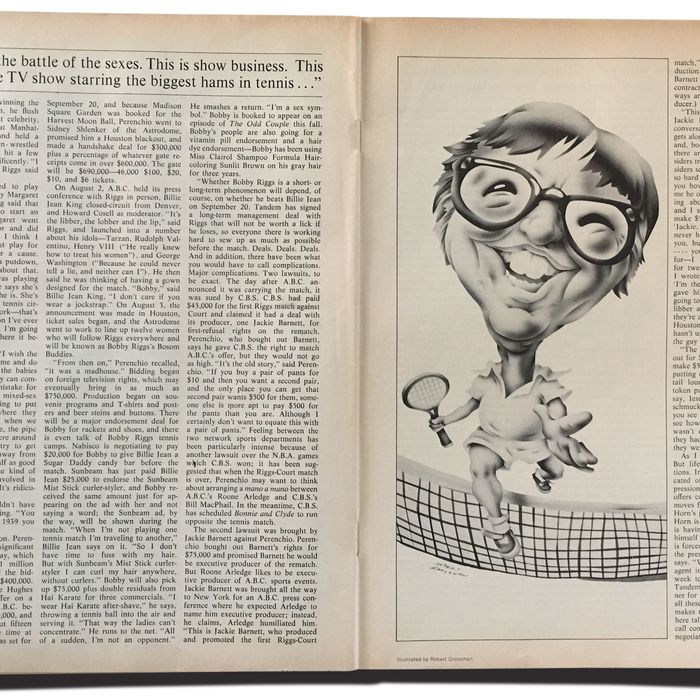 From New York, September 10, 1973.
The "Fall Preview" package in New York's current issue spotlights the most anticipated new things of the season, and among the movie highlights for September is Battle of the Sexes, a comedy about the mad 1973 tennis match in which Billie Jean King, the reigning Wimbledon singles champion two years running, played an exhibition match against Bobby Riggs, the trash-talking Wimbledon men's champ of 1939. (Emma Stone and Steve Carell will star in the film.) The quasi-championship, aired in prime time on ABC, was a circus. King was borne onto the court on a litter, lifted by beefy shirtless guys; Riggs presented her with a giant Sugar Daddy lollipop, whose corporate logo also appeared on his jacket. She beat him 6-4, 6-3, 6-3, in what was played in the press as a feminist victory over an unrepentant male chauvinist.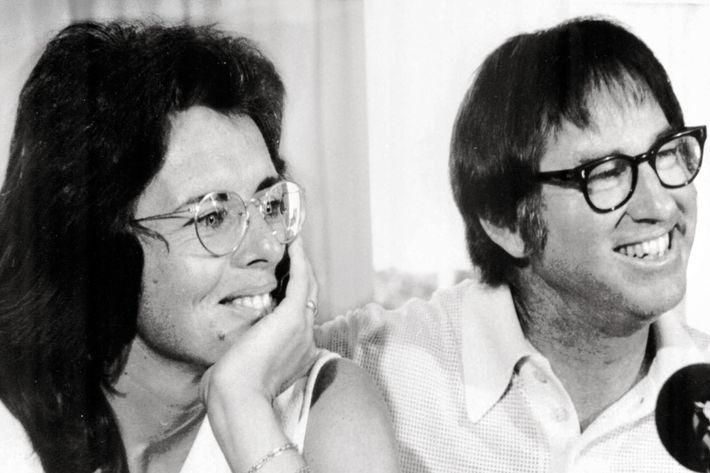 The week before the showdown at the Astrodome, Nora Ephron wrote about it for New York. "Bobby Riggs, the Lady-Killer" displays her deadly aim and clear-eyed skepticism. Ephron often wrote about the feminist movement, notably in her column for Esquire, and she was not especially sympathetic to Riggs. "Any day now Bobby Riggs is going to go into training," she wrote. "Any day now. But not tonight. Tonight he is sitting in Le Bistro in Beverly Hills. It is one month exactly until September 20, when he will play Billie Jean King in Houston, and he is saying that he really has to cut all this out. Tomorrow, maybe he will. Tomorrow, maybe he will start playing tennis. Tomorrow maybe he will start jogging. Tomorrow maybe he will resume taking his 415 vitamin pills a day and go on his high protein diet. The diet, after all, cost Bobby $15,000 — a Hollywood nutritionist who makes house calls prescribed it for him and tells people he charged Bobby three times the going rate on the theory that Riggs was more trouble than three patients put together."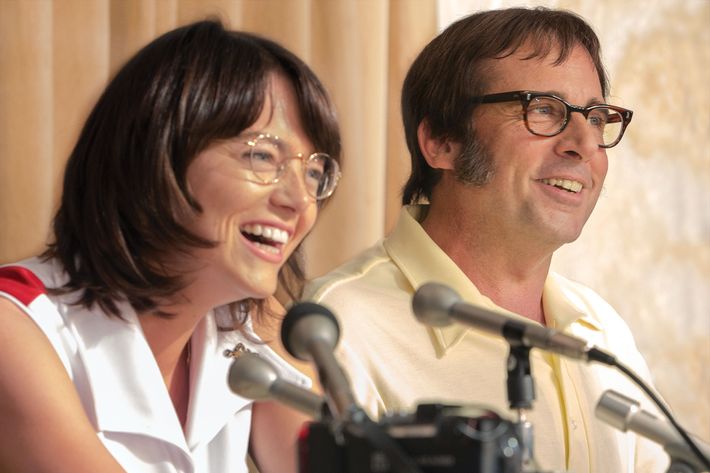 She pretty much let Riggs hang himself. "Personally," he said, "I wish the women would stay in the home and do the work and take care of the babies and compete in the areas they can compete in, because it's a big mistake for them to get mixed up in mixed-sex matches like this. We're going to put those women right back where they belong like they used to be when we had the slippers and the pipe, the pipe and the slippers, and they were around the house and they didn't try to get out and get the man's job away from him. They can't even do it half as good and they still want the same kind of money. That's why I got involved in this thing in the first place. It's ridiculous." But that was his patter for the TV cameras; when Ephron asked him what he really knew about women's liberation, he responded, "You're not going to believe this. Nothing."
The promoter, Jerry Perenchio, saw the match for what it was, sort of: "I wouldn't even want to be involved if this was tennis … This isn't tennis. This is the battle of the sexes." And Ephron herself called it even more acutely. "This isn't even the battle of the sexes," she wrote. "This is show business. This is a prime-time television variety show starring the two biggest hams in tennis. One of them happens to be a 29-year-old woman who is a devout believer in women's liberation, and the other is a 55-year-old man who has managed to hustle his way to a remarkable comeback attacking the women's movement and women's tennis. Perenchio has managed to parlay the act into the biggest-money tennis event in history — the gross receipts may go as high as $5 million." On the tournament circuit at the time, King routinely earned far less than the men. Stone has implied in interviews that on recent films, her male co-stars have taken pay cuts to bring their salaries into line with hers.
*This article appears in the August 21, 2017, issue of New York Magazine.