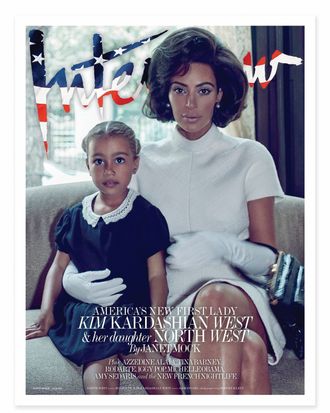 Photo: Steven Klein/Courtesy of Interview Magazine
If you've ever wondered what the inner life of a hyperfamous celebrity baby is like, Interview magazine is here to shed some light. Their September cover features Kim Kardashian styled in an homage to Jacqueline Kennedy Onassis, with daughter North West by her side. Inside, there's an interview with Kardashian, but — more importantly — there are a series of mini-interviews with North West, by other celebrity youths and also the ghost of Andy Warhol.
Here are but a few things we learn about North, age 4: Her favorite pizza topping is "cheese, cheese — everywhere cheese." Her favorite song is "my daddy's song 'Amazing.' So amazing!" And her bag is filled with "toys, and sometimes I put some makeup in there when I go to church."
Sounds like it's time for Interview to branch out into an all-celebrity baby issue.