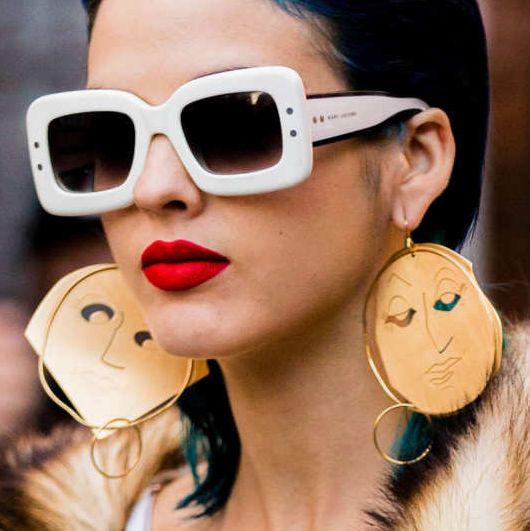 Once in a while, a trend appears on the runway, trickles down to your local mall, and then lodges itself firmly inside your brain. Now Trending is our weekly roundup of where to buy that look that's been haunting you.
We all have that friend who can't go to a museum without waxing poetic about the genius of abstract expressionism or les Fauves. Maybe you are that friend. In which case, try bringing that cultural appreciation into your wardrobe with a new pair of art-inspired earrings.
Big and bold but not gaudy, the art-history earring has blown up on Instagram and landed on some of your favorite e-commerce sites. With abstract shapes and thin lines, these lightweight, dangly pieces make even jeans and a T-shirt seem exciting. Read on for ten pairs that would certainly get the Jerry Saltz seal of approval. As Picasso said himself, "Great artists steal."
These come from Paola Vilas, the Brazilian designer at the helm of the trend. Though her collection lifts inspiration from Breton, Braque, and the surrealists, her nod to Paul Klee — the German-Swiss painter known for colorful, Cubist-influenced stick figures — is uniquely cool.
Abstract enough as to not make it obvious you're wearing a nude body on your ears. Plus, they're asymmetrical, hitting all the trends.
If the Whitney exhibit gave you Calder fever, these mobile earrings will help satisfy. Their shapes also recall the abstract expressionist paintings of Joan Miró and Wassily Kandinsky.
There's nothing quite like a Matisse: bright, buoyant, bold. These earrings recall his iconic cut-outs with their curved geometry and two-dimensional form.
Wwake designer Wing Yau has a degree in sculpture, which helps inform her design aesthetic. The artful folds on these hoops give them a sophisticated edge.
If you can't have a Calder mobile in your garden, let these dangle off your ears.
The perfectly misshapen blobs on these earrings recall a David Hockney bean pool.
For all those two-faced Geminis out there.
Hoops in standard circles? Not for the art girl.
If you buy something through our links, New York may earn an affiliate commission.