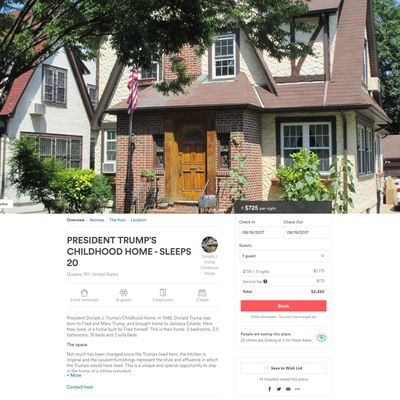 Airbnb listing like the world has never seen.
Photo: Airbnb
Looking for a place where you and maybe 15 of your closest MAGA-hat-wearing friends can crash during a weekend getaway in Queens? You're in luck: Donald Trump's childhood home in Jamaica Estates is now available for rent on Airbnbfor $725 a night. According to the listing, the five-bedroom, three-and-a-half-bath home sleeps up to 20 guests, and is a "unique and special opportunity to stay in the home of a sitting president."
"Not much has been changed since the Trumps lived here," the listing claims of Don's old digs, where he apparently lived until he was 4 years old. "[T]he kitchen is original and the opulent furnishings represent the style and affluence in which the Trumps would have lived."
This 2,000-square-foot Tudor home also boasts amenities such as wireless internet, air conditioning, an indoor fireplace, and, most critically:
There is a giant cut out of Donald in the Living Room, he is a great companion for watching Fox News late into the night …
Trump's home ended up as a possible vacation spot at the end of the F line after former owners put it on the market last year. They then decided to put it up for auction in October, but then postponed it, figuring they'd get more money if Trump won the election. A Manhattan real-estate investor ended up snatching up the property in December for $1.39 million, which he flipped for more than $2 million after the inauguration. The purchaser's identity is hidden behind the LLC "Trump Birth Home," but in June, that mysterious landlord rented out the home on a long-term lease for about $4,000 per month.
It appears as if a tenant does reside at the property, as the Airbnb advertisement warns that one of the bedrooms is off-limits because the lister lives there. Otherwise, renters have full reign of Trump's old domain – though no renters have left any reviews just yet. But anything below five stars will likely be considered fake news.