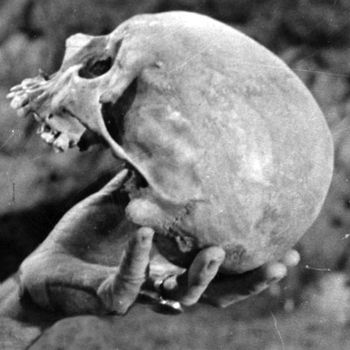 Laurence Olivier holding Yorick's skull in 1948's
Hamlet.
Photo: Mary Evans/Ronald Grant/Everett Collection
Americans' attitudes toward nudity can be fairly uptight and silly compared to, say, our Scandinavian counterparts. Know what probably won't change that? An all-male, all-nude production of Shakespeare's Hamlet in Brooklyn. Know what's still opening in Prospect Park on Thursday? An all-male, all-nude production of Hamlet.
Patrick Horn, the actor playing (nude) Rosencrantz, expressed hopes that the audience would be watching nude Hamlet for the stories. "We need to put on the clearest version of Hamlet so people aren't just focused on the nudity," he told Women's Wear Daily.
Meanwhile, director and founder of the Torn Out Theater Company, Pitr Strait, explained that the play is meant to promote body positivity. He put on an all-female nude production of The Tempest last year for the same reason:
"One comment that came up a lot was the idea that of course we did this [show] with naked women — that's not brave or new," explains Strait. "[People said] we could never do this with men and no one wants to see a naked man. The more we read these reactions and comments, there seemed to be this threat about men feeling like their bodies are inherently unattractive or unwanted."
Thank god nude Hamlet is stepping up to the task.