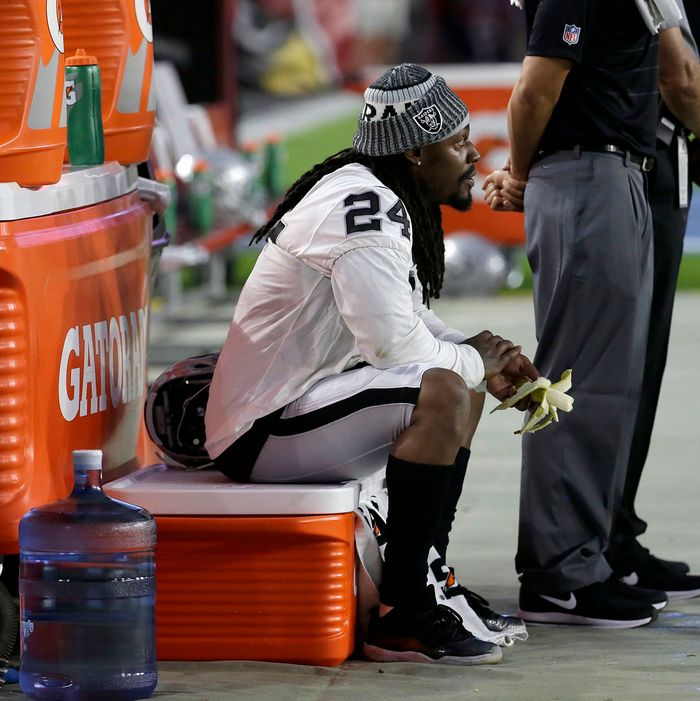 Oakland Raiders running back Marshawn Lynch during a preseason game against the Arizona Cardinals.
Photo: Rick Scuteri/AP
Last night, during a preseason game against the Arizona Cardinals, Oakland Raiders running back Marshawn Lynch was the latest football player in a string of athletes who have refused to stand for the National Anthem.
The move came on a day that was marred by a deadly white-nationalist rally in Charlottesville. As the "Star Spangled Banner" played, Lynch sat quietly on an orange cooler just off the sidelines and peeled a banana, according to the Washington Post.
With this gesture, Lynch follows in the footsteps of former San Francisco 49ers quarterback Colin Kaepernick, who famously kneeled during the national anthem last August. Kaepernick's move sparked controversy as well as a string of similar protests from other black athletes in the NFL and beyond.
Lynch hasn't spoken publicly about the decision, but told Conan O'Brien last September that he supported Kaepernick's message.
"I'd rather see him take a knee than stand up, put his hands up and get murdered," Lynch told O'Brien. "My take on it is, [stuff], it got to start somewhere and if that was the starting point, I just hope people open up their eyes and see that it's really a problem going on and something needs to be done for it to stop. If you really not racist, then you won't see what [Kaepernick is] doing as a threat to America, but just addressing a problem that we have."
After the game, Oakland Raiders head coach Jack Del Rio told reporters it was a "non issue for me," according to The Arizona Republic.
Del Rio said he prefers his players to stand but respects Lynch's decision. He reportedly told Lynch: "I very strongly believe in standing for the national anthem … But I'm going to respect you as a man, you do your thing, okay, and we'll do ours."