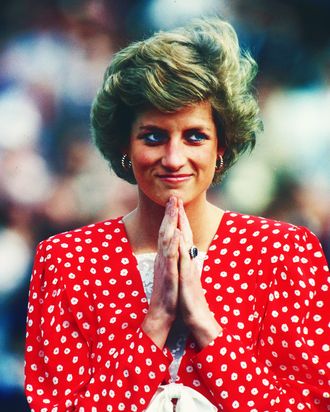 Diana, Princess of Whales.
Photo: Princess Diana Archive/Getty Images
Virgil Abloh, man of the people, announced on Instagram Monday morning that his spring 2018 collection is inspired by Diana, the "People's Princess."
Twenty years after her death, Princess Diana's life and style is still the source of endless fascination around the world, as evidenced by two documentaries that premiered this summer. It comes as no surprise that Abloh, who always has his finger on the pulse, would respond to culture's current déja vu for the icon.
Titled Natural Woman, the collection will include 40 looks and debut at Paris Fashion Week this September. Abloh's past inspirations include Sigourney Weaver in Working Girl, Julia Roberts in Pretty Woman, and even Martha Stewart, but none are quite as hyped as Princess Diana.
Get ready to bend the knee.