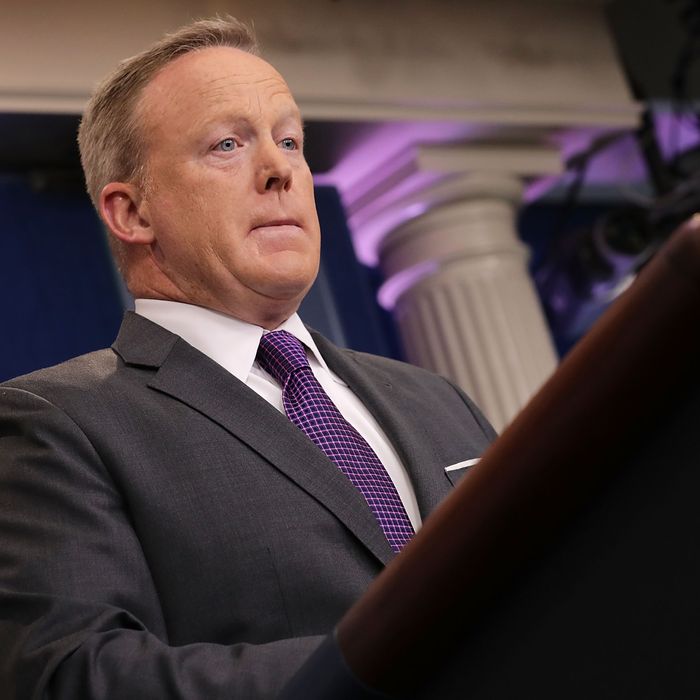 Sean Spicer.
Photo: Chip Somodevilla/Getty Images
Just because Sean Spicer resigned from his job as Donald Trump's White House press secretary doesn't mean he no longer enjoys being humiliated on national television. Sources told Us Weekly the gum enthusiast is "angling" to appear on Saturday Night Live, the show he once described as "silly" and "malicious."
"He asked someone he knows that is close to a cast member to help him," said the source (who may not be Sean Spicer in his basement after two glasses of Chardonnay, but probably is). "Yes, he criticized SNL before, but he's changed his tune. He wants to make a cameo!"
See? He's in on the joke, you guys. He was laughing with us when he lied on behalf of the administration! Classic!
If his material was a little rough before, Spicer now has plenty of time to devote to his non-governmental comedy career since he turned down an invitation to appear on ABC's Dancing With the Stars, and robbed the nation of an opportunity to see him foxtrot in a pair of bedazzled slacks.
No word yet on whether SNL will accommodate Spicer's request. In the meantime, he can kick back, relax, and enjoy funemployment with some refreshing beverages from that mini fridge he stole.