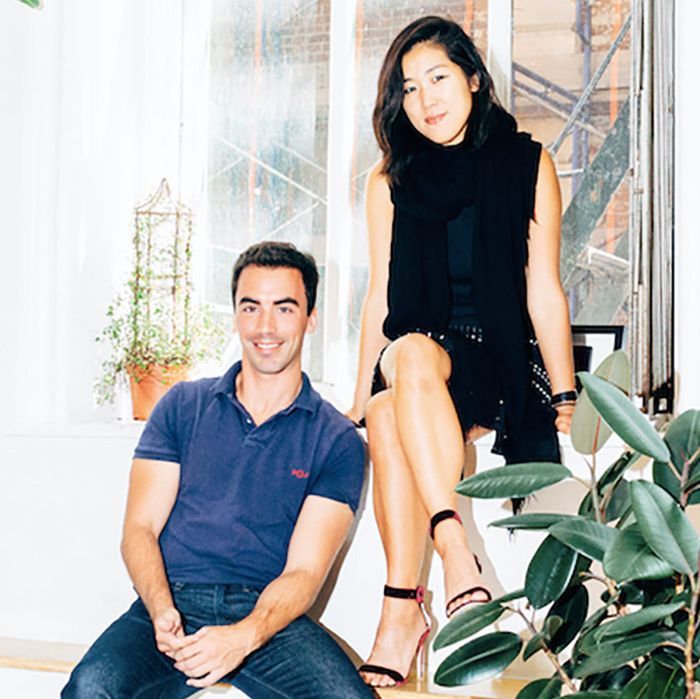 Fernando Garcia and Laura Kim, the designers behind Oscar de la Renta and Monse, have a "You say tomayto, I say tomahto" partnership. Korean-born Kim prizes ease and masculinity; Garcia, who was raised in the Dominican Republic, prefers all things frilly and feminine. "I put comfort before everything," Kim says. "I put fantasy before everything," responds Garcia. In this case, opposites do very much attract. Kim says of their dichotomy, "I think it helps us make our ideas better."
The two have a banter-filled rapport that fuels their playfully elegant designs. (At Monse: twisty shirting and deconstructed menswear vibes; at Oscar: youthful takes on suiting and eveningwear, which recently included a jean jacket.) Even the story of how they met is rife with humor. Garcia, who had met the late Mr. de la Renta in Punta Cana, called Kim, then Oscar's design director, to see if he could intern. "He said he was calling from Notre Dame, which is a school, but I thought he was coming from a church in Paris," Kim recalls. The two crossed wires about the internship's start date, and Kim was surprised one day to arrive at work and find Garcia sitting at her desk.
Despite this inauspicious beginning, the two became great collaborators, and in 2015, after Mr. de la Renta's passing, left their jobs to start Monse together. The line was an immediate favorite among fashion editors and celebrities like Sarah Jessica Parker and Amal Clooney. Scarcely two years later, the house of Oscar de la Renta wooed them back — this time to be at the helm. It proved a wise move for the brand: Kim and Garcia's debut collection, comprising color-saturated gowns and a ladied-up take on the asymmetrical tailoring they're known for at Monse, was one of the most anticipated acts of New York Fashion Week this past February.
How do they manage the work of creative-directing two brands at once? Garcia says the trick is collaboration. "I remember when the idea to do two lines at once was coming up, I happened to be in a meeting with Kate Young," Garcia recalls. "She said, whatever you do, just make sure you have — excuse my French — a fucking stellar team." Below, the design duo spoke to the Cut about what they'd never wear, their mutual Instagram obsession, and why they prefer staycations. Read on for the full interview.
How do you thank people for a gift?
Fernando: A hand-written note on Smythson stationary.
Laura: I usually write notes, or on a special day I'll send Greenwich-spa gift certificates. I usually bill half to Fernando.
Fernando: She just buys a spa certificate and then tells me about it after, and I have to pay for it.
Laura: You owe me $300.
Do you prefer mood lighting or natural light?
Fernando: Mood light. I'm all about the show production.
Laura: I like cheap natural light, free.
What are some coffee-table books that you would be proud to display?
Laura: There's a book I got from my mom of Alber Elbaz's ten-year anniversary when he was at Lanvin. That's the only one I really, really love.
Fernando: If I had a coffee table … My favorites are the Tom Ford one and one Oscar did before he passed; that was beautiful. He signed it dedicated to my mom. I love The World in Vogue: People, Parties, Places; anything Horst; and the book of Robert A. M. Stern the architect. I think he's one of the best architects around right now.
Laura: You sure you have your Tom Ford book? It was a nice display book, so I took it.
Fernando: He's the reason I started in fashion. That's why it's so special to me.
What would you never wear?
Laura: I would wear anything, to be honest.
Fernando: You will not wear anything.
Laura: I'll make it work.
Fernando: No. You need to find a better answer.
You hate things.
Laura: Okay, I hate flip-flops.
Fernando: There you go. I'll never wear a jumpsuit.
What is a trend that you like right now?
Fernando: Instagram, that's the answer for both of us.
Laura: Yeah. Just our phones.
What are your favorite accounts to follow on Instagram?
Fernando: @shitheadsteve
Laura: @pupflix
What's your favorite song on your playlist right now?
Laura: I was just listening to "Apocalypse" by Cigarettes After Sex.
Fernando: London Grammar, "Non Believer."
If you were a car, what kind of car would you be?
Laura: A pickup truck. I always thought that they're kind of nice.
Fernando: I think I'll go with a 1990 old green Jeep Cherokee. I've always liked those cars. I don't care if anybody here is rolling their eyes.
Laura: Don't give me a ride.
What's your dream vacation?
Fernando: Maybe the Greenwich Hotel. I honestly love staycations because I get anxiety when I travel too far or stay away from work too long.
Laura: Same as Fernando. I don't like flying that much. We usually just check into a hotel in New York.
Fernando: We're lazy. And it's really beautiful, and it's serene inside. It doesn't feel like you're in New York, but you're in New York, so you're cheating.
What's another decade you'd like to live in and why?
Laura: I think for me, it's the future. I don't like old things.
Fernando: She likes the comforts of modern amenities. For me, maybe the 1920s — I'm curious to see what that time was like in society.
What is the secret to throwing a good party?
Fernando: I just think it's very important that the people that you invite cannot be at random. It has to be very well-thought-out so that the chemistry and the energy are there. I think once you have that going, it doesn't matter what food or drinks you have or what music you play.
Laura: Fernando is really good at it. I'm not very good at it. If it's not Fernando throwing it for me, I just call all my friends in PR. They helped me put together Fernando's birthday.
What's one way your tastes have changed since you were a teenager, and one way that it's stayed the same?
Laura: I love streetwear, but I got a job at Oscar at 21, so I changed a lot. Then, when I left in my 30s, I went back to streetwear.
Fernando: I'm not a very fashion-forward person. What I put on myself has stayed the same. A T-shirt or shirt and jeans has always been my go-to. All I do at work every day is think about clothes, so the last thing I want to do is think about them when I'm at home.
Laura: We joke that Fernando painted his outfit on his body.
What's your guilty pleasure?
Laura: Eating junk food. I eat everything, like M&Ms, chips, ordering Chinese food — and not the fancy kind.
Fernando: Reality television. Any Housewives show. Those are probably my guiltiest pleasures.
What's your favorite pair of jeans?
Laura: I have to say Monse dad jeans.
Fernando: I'm a big fan of Acne's fit.
T-shirt?
Fernando: James Perse for me.
Laura: Comme des Garçons Play.
Pajamas?
Laura: I just wear whatever.
Fernando: Underwear. We're not pajama people. Calvin Klein boxer briefs.
Flower?
Laura: Tree peony.
Fernando: Mine is Ranunculus.
Chocolate?
Fernando: Mine is anything from Sacher in Austria. I like any chocolate.
Laura: Charbonnel et Walker pink-Champagne truffles.
Linens?
Fernando: Frette is the only thing that my mom ever buys for me, every couple of years. I like a white-bedding situation all the time.
Laura: Bellino Fine Linens. Only white.
Fragrance?
Laura: Anything from Frédéric Malle. I actually like men's perfume. I just find it a little sexier than a floral.
Fernando: Right now, I'm using Prada L'Homme, but I also use Tom Ford Tuscan Leather. I like the smell of masculinity in them. Anything woody or leathery, I like. Is it tacky to say I love Old Spice?
If you buy something through our links, New York may earn an affiliate commission.