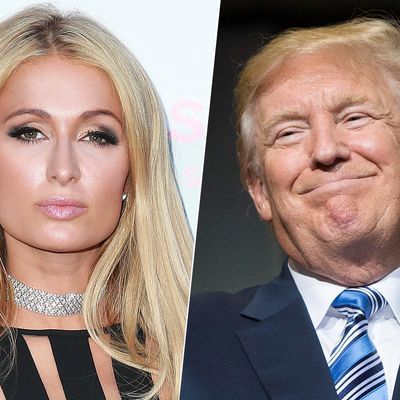 Paris Hilton defended her family friend in a
Marie Claire
interview.
Photo: Getty Images
Paris Hilton's rebrand was going so well — the hotel heiress had been DJing yoga classes out of the goodness of her heart, and she was all set to release her new single "Summer Reign" in conjunction with her 23rd perfume, Rosé Rush. Then, in an interview with Marie Claire published Monday, she sent some conflicting messages. She told the magazine she was a feminist — "I just feel it's about women's empowerment and girl power, and I'm very into that," she said. But she also brushed off president and family friend Donald Trump's comments about women, saying, "I've heard guys say the craziest things ever."
On Tuesday, writer Irin Carmon tweeted a screengrab of Hilton's extended comments on the topic, which, well … see for yourself. (She added that the whole exchange was too long to fit in the print story.)
Hilton's defense of Trump basically mirrors his own — the president suggested multiple times that the women who accused him of sexual assault weren't attractive enough for him to be interested, and one of his surrogates called him "one of the handsomest billionaires that's ever lived; I don't think he ever had to grope a single woman ever. I think they threw themselves at him, so it's all a lie."
And her insistence that guys just "say some pretty crazy things" to each other sounds a lot like Trump's claims that his comments to Billy Bush were just "locker-room talk."
Whether this damages the chances of "Summer Reign" making Billboard's Hot 100 remains to be seen.