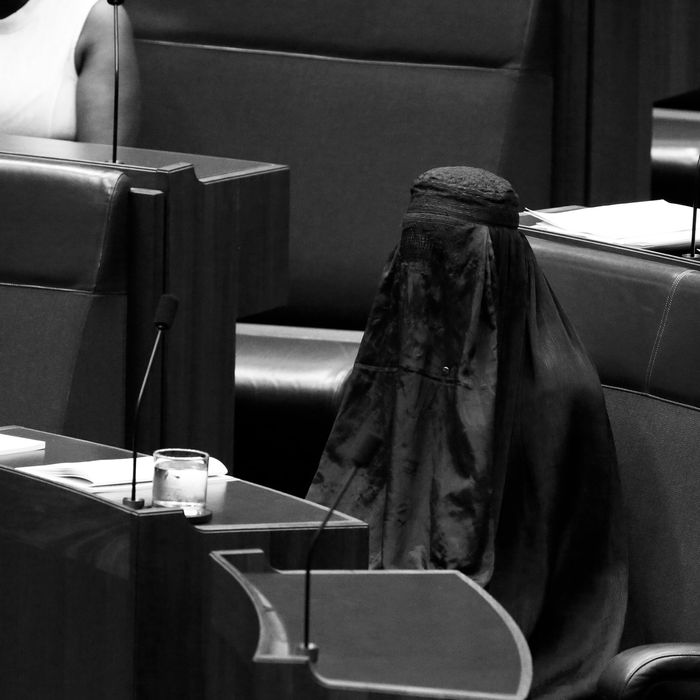 Senator Pauline Hanson wears a burka during question time in the Senate chamber.
Photo: Jed Cooper/AP
Senator Pauline Hanson, the leader of Australia's right-wing One Nation party, shocked her colleagues when she walked into parliament wearing a burka on Thursday. According to The Guardian, Hanson, who is not Muslim, was attempting to make a statement about the garment, which she's said should be banned.
Hanson entered the chamber to pose this question to Attorney General George Brandis, who's the leader in the Senate: "In light of our national security of this nation, will [the government] work with me to actually ban the burka in Australia considering there have been 13 foiled national threats against us with terrorism, three that have been successful that Australians have lost their lives?"
A visibly incensed Brandis replied with a sharp rebuke of Hanson's behavior, telling her that, "No, we will not be banning the burka," and, "I'm not going to pretend to ignore the stunt that you have tried to pull today by arriving in the chamber dressed in a burka when we all know you are not an adherent of the Islamic faith." He went on:
I would caution you and counsel you, Senator Hanson, with respect, to be very very careful of the offence you may do to the religious sensibilities of other Australians.




To ridicule that community, to drive it into a corner, to mock its religious garments, is an appalling thing to do, and I would ask you to reflect on your behaviour.
His speech earned him a standing ovation from some lawmakers, including conservatives.
Hanson is a longtime proponent of shutting down mosques and banning Muslim refugees — she campaigned on those issues last election, The Guardian reported. In May, she publicly questioned Australia's intelligence chief about whether burkas represent a security threat, to which he replied, "We have no security reason to be concerned about the wearing of a burka other than the requirement for individuals to identify themselves to authorities."