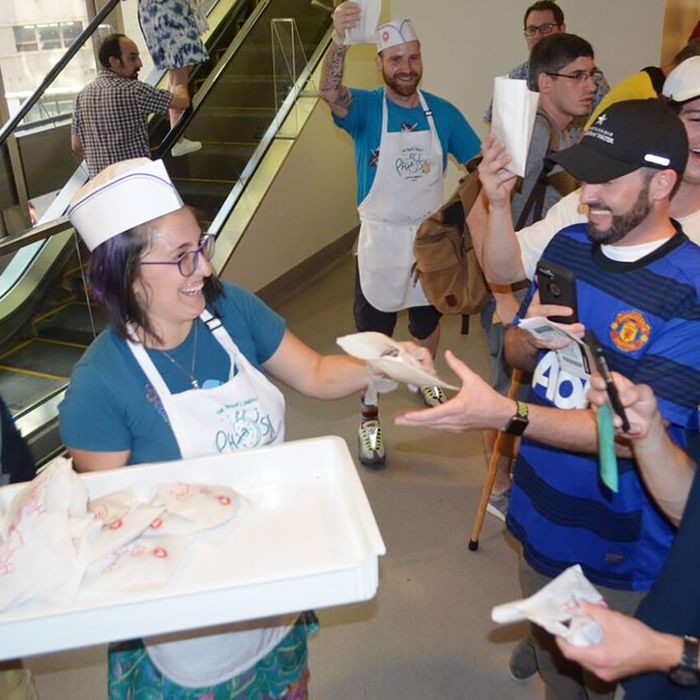 In the pedestrian walkway between Eighth and Seventh Avenue on 33rd Street this past Friday, I heard a woman ask her male friend, "So are Phish and Grateful Dead, like, the same?"
I nearly choked. By the sound of her voice, I could tell she was sincerely curious, but, I thought, What a beautiful way to neg a Phish fan. I looked back at them as I approached the door of Madison Square Garden, and I caught her patiently waiting for his response; he stuttered, and almost a full 20 seconds later, began, "Uh … well, no …"
There is no shortage of trolling of Phish — a jam band from Vermont — in the world, but a lifetime of anecdotal evidence has provided me with one definitive truth: You either get Phish or you don't. (I don't.) You either attend 13 consecutive Phish shows at Madison Square Garden, or you don't even know they're happening. You either knew that the last name of the drummer from Phish's name is "Fishman," or you didn't. These are just the facts.
But when Phish announced that for this string of shows in particular, they would be passing out free doughnuts to showgoers from a cult-favorite doughnut shop in Philadelphia, it occurred to me for the first time in my life: Maybe this whole time I'd been wrong. Maybe Phish could be for me after all.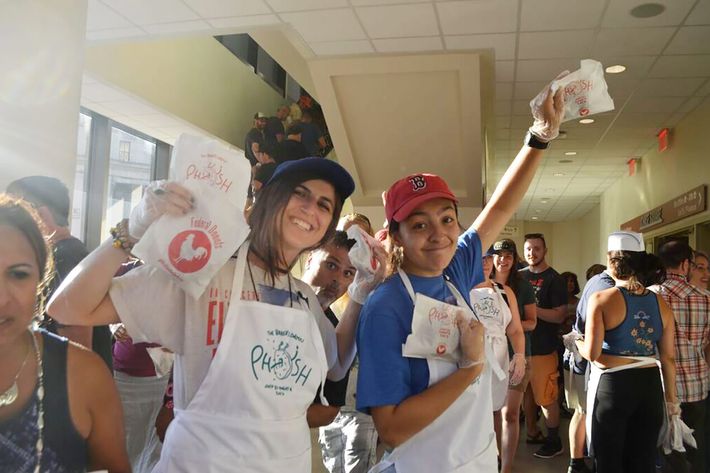 Felicia D'Ambrosio, one of five co-owners of Federal Donuts in Philadelphia, said she landed "the gig of a lifetime" when Phish's manager sent her an email asking if she thought she could pull off making and handing out thousands of doughnuts to Phish fans before 13 shows in New York this summer. "I almost died. I was like, 'Am I on Punk'd?' I'm either dead or in a coma," she said. (D'Ambrosio has been to over 150 Phish shows in her life, and had already purchased tickets to the whole run before the doughnut ask even came her way.) Federal Donuts had been recommended to Phish by Mark Welker, executive pastry chef at New York's Eleven Madison Park and NoMad, because he knew the Philly locals were Phish phans themselves.
Unsurprisingly, when the doughnut gag was announced, D'Ambrosio said there was some carping online about Phish's decision to use a doughnut shop from Philly and not New York, but free doughnuts are free doughnuts, after all, and these particular doughnuts were an important part of how fans participated in the shows each night. The band chose a different flavor of doughnut for each show, and each flavor would give a hint as to what songs would be in the lineup that night. As a result, the flavor choices and the doughnuts were highly guarded.
"We weren't even allowed to see an idea of what the flavors were until we signed an NDA," D'Ambrosio said. Starting around 2 or 3 a.m. each night, Federal Donuts' head chef Matt Fein and a team of workers made "thousands of doughnuts" in their shop, loaded them in proofing boxes into a truck, and drove them the two hours (or "99 miles," as you may have heard from a bad cheesesteak shop) from Philadelphia to New York. A security guard named Bruce, who does not like doughnuts, was tasked with guarding them at the venue — for secrecy and security. If the treat every night were ice cream instead of doughnuts, he said, "I would eat gallons of it."
A Boston-cream doughnut on Saturday led to a medley of Cream and Boston songs; a doughnut hole hinted at the band covering Tom Waits's "Way Down in the Hole" and "O Holy Night"; raspberry-jam-filled doughnuts meant — you guessed it — much longer jams. The earlier fans arrived, the greater likelihood of getting a doughnut.
"The doughnut is meant to be a reward for waiting," D'Ambrosio said. Some fans, she claimed, would leave the show before the encore so they could get an early overnight spot in line for the next day. Those "rail-riders," as she put it, were almost always going to walk into the show, doughnut in hand.
On Friday, the 11th night, 18 volunteers prepared lemon-poppy-seed doughnuts in paper bags to distribute to the crowd, with only 15 minutes to go until fans arrived. Tim Bramlette, the director of partnership for HeadCount, a nonpartisan nonprofit that registers people to vote at concerts, had tickets to all 13 nights. I asked him what to expect at the show, as a complete live-Phish newbie. He conjured the image of an airplane. "Everyone is on the plane, ready on the runway, and then you kind of feel it take off. Three shows in, the plane is flying, and we're just charging and soaring," he said. "By now, the band might be a little exhausted, and all the fans have done ten nights. It's time to land the plane and go home for a while. I'm a veteran of this and to be honest, I'm a little fried." Just like a doughnut, I thought.
Five minutes were left until doors opened. The doughnuts were bagged, a sweet lemon scent pushing around the room. The vestibule where we stood was blazing hot. And when D'Ambrosio said we had about one minute until fans started coming through the doors, Bramlette pulled me aside, pushed a box of plastic gloves beneath my nose and said, "You're writing about the doughnuts, right?"
"Uh, yeah."
"Well, sounds like you should be handing out some doughnuts." A Phish-branded apron was thrown around my neck and a paper diner hat was pushed onto my head. The doors opened. It was doughnut time.
My experience with people receiving free things — especially in New York City — can be captured by imagining a thousand termites destroy a wooden desk in 30 seconds. It's part of the New York City ethos to covet free shit, even if moments after being handed a Nesquik-branded smoothie or a dirt-flavored energy bar, it gets tossed into the closest public trash can. We want it and we want it now, even if we don't want it one second later.
On the contrary, when you give a Phish fan a doughnut, you can make her happy for seemingly a lifetime. With the exception of a small percentage of people running eagerly to get a front-row spot on the floor of MSG, the show attendees accepted each doughnut as if they were a pleasant surprise that they had no idea they were getting. (The doughnut gag was a very public part of the tour promotion; fans speculated for hours over what the daily flavor could entail.) No crushing in front of each other, no greedy grabbing, no harsh vibes. Sometimes the doughnut distributors had to specifically convince the concertgoers to accept one. "If you don't take a doughnut, Phish won't play!"
"Do you want a doughnut?" one volunteer politely asked a man with a gray beard and ponytail.
"Hell yeah, I do," he responded, patiently waiting for the doughnut to be placed in his hand. For someone who had been waiting hours to get through the doors of Madison Square Garden to see a band he'd likely been following for years, getting a free lemon-poppy-seed doughnut was just a gnarly added bonus to the whole experience. He boarded the escalator, still smiling as if he'd seen a vision. Maybe he had. In all the doughnut talk, I had forgotten about drugs.
By seven, almost all of the doughnuts were gone, and D'Ambrosio took me to several handicap entrances to personally deliver doughnuts there. At one, we met Elaine, a 57-year-old former Deadhead who now worked at MSG and did improv comedy on the side, and a pregnant woman who was due in four days. When I asked the pregnant woman and her husband if they were concerned she might go into labor at a Phish show, of all places, her husband demurred. "I'd rather have it happen here! At home, my couch is ruined, I gotta call an Uber." His wife nodded and laughed in her seat. They — like the rest of the fans I'd met — were strangely, sometimes disconcertingly, at ease.
Phish fans, if you're reading this, this is the end of the article. Thank you for reading!
Everyone else, I have to be honest and say that I did not stay for the entirety of Phish's three-and-a-half-hour set. I did stay long enough to spot a man wearing a hat that read, CHEM TRAILS ARE JUST LINES OF COKE FOR JESUS; to catch a shaggy-haired male actor whose name I can't remember wearing closed-toed Birkenstocks; to hear songs whose words I couldn't quite understand; and to dance in a way that felt unnatural to my body. I didn't catch the lemon connection until after the show was over, when I Googled "Phish set list" and learned that their opening song had been a cover of Blind Lemon Jefferson's "See That My Grave Is Kept Clean." It was fun to watch everyone else enjoy themselves so much. That's a nice thing.
The fact remains that Phish probably still isn't for me, after all, but I did leave Madison Square Garden with one extremely important takeaway: Every show should have free doughnuts.