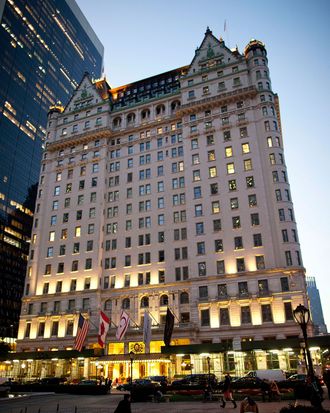 The Plaza Hotel.
Photo: Ben Hider/Getty Images
Six current and former female staff members of New York's famed Plaza Hotel have reportedly filed a lawsuit against the iconic institution, alleging its management has ignored and retaliated against their claims of sexual harassment, the New York Post reports.
According to the Post, the women in the suit allege they've had to deal with unwanted groping and kissing, as well as derogatory comments, during their employment. One of the women says her male manager followed her into a coat closet, grabbed her and kissed her — which allegedly occurred three separate times in one day. When she rebuffed his advances, he reportedly cried and said, "I don't understand why you don't want me."
In another incident, a male employee allegedly brought in a cucumber and some "white sauce" with him to work, and told a female colleague to dip the vegetable in the substance since it has "lots of protein," the Post notes. A report by TMZ claims another male staffer tried looking under a female co-worker's skirt, while another plaintiff alleges a male colleague showed her pictures of his penis.
"While patrons enjoy the iconic culture of the Plaza, many of its female employees are forced to endure a culture of a different type — rape culture," the suit claims, per the Post. The lawsuit is seeking unspecified damages.
The Plaza's parent company, Fairmont Hotels & Resort, sent the Cut the following statement:
At Fairmont Hotels & Resorts, the safety and welfare of our guests and staff is always our highest priority. Any attempt at harassment or discrimination toward our colleagues and guests has not and never will be tolerated. We are proud of our differences, actively prioritizing gender equality, diversity and inclusion. We take all claims of harassment or discrimination seriously, take appropriate remedial action where warranted, and do not retaliate against any staff member who raises a claim of harassment or discrimination in good faith. Because of the pending litigation, we cannot go into further details at this time.