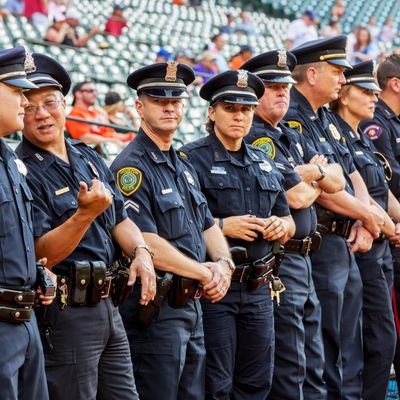 Members of the Houston Police Department line up at Minute Maid Park.
Photo: Icon Sports Wire/Corbis via Getty Images
Following the president's announcement on Twitter that transgender soldiers will be barred from serving in the U.S. military "in any capacity," police departments across the country have made it known that they'd happily accept trans recruits.
"If you are dismissed from our military because of who you are," said Chris Seelbach, a Cincinnati city councilman, at a rally after Trump's announcement, "know that you are welcome in the city of Cincinnati and our police department."
Other cities such as Austin, Texas; Houston, Texas; and Aurora, Colorado, are following suit, the New York Times reports. And Austin mayor Steve Adler posted his own series of tweets addressing the issue:
Art Acevedo, the chief of the Houston Police Department, weighed in too, and so did Aurora's police chief:
Before he was head of police in Houston, Acevedo was in charge of Austin's police department while one of its officers transitioned. "His appearance might have changed on the outside, but on the inside, he was the same ethical, committed, hardworking, respected police officer as his entire career," Acevedo said. "He continues to serve with distinction and honor."
For now, it's still unclear whether any sort of ban on trans soldiers will actually take effect — GOP lawmakers have spoken out against it, and perhaps more importantly, the chairman of the Joint Chiefs of Staff wrote in a memo that "there will be no modifications to the current policy until the President's direction has been received by the Secretary of Defense and the Secretary has issued implementation guidance." And for now, the president seems to have other things on his plate.