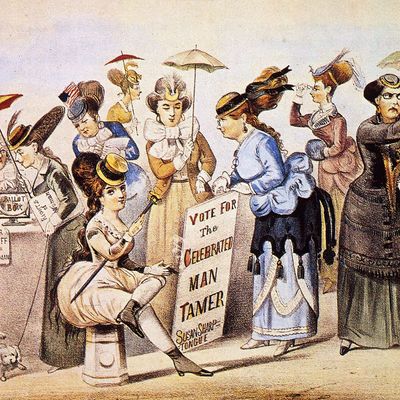 1869: A crowd of women joining the National Woman Suffrage Association, which was led by Elizabeth Cady Stanton and Susan B. Anthony.
Photo: MPI/Getty Images
The same day that President Trump signed an order banning transgender individuals from joining the military, the White House released a memo honoring August 26, 2017 as Women's Equality Day.
Originally established in 1971, Women's Equality Day was created to celebrate the passage of the 19th amendment in 1920; the 72-year campaign to extend women the right to vote originally kicked off in 1848 at the Seneca Falls Convention.
In the memo Trump honors: "The innumerable contributions women have made to their families, their communities, and in service to our country."
He says his administration is committing to helping women in STEM fields:
"My Administration is committed to fostering an economy where all women can succeed and thrive. I am also working to ensure that all women have access to the training they need to succeed in our modern economy, especially in science, technology, engineering, and math (STEM) fields … We must break down the biases and barriers women in STEM face, and encourage every American to pursue excellence in his or her chosen field."
He also touts his paid-family-leave policy, which he presents as one solution to women's inequality:
"We must prioritize the needs of working mothers and families, including access to affordable childcare. Therefore, for the first time in the history of this country, my budget proposes a national paid family leave program. Our working families must be able to provide and care for their children without fear of financial insolvency, to strengthen our communities and drive a booming economy."
But, there's no mention of the contribution women have made in fields like business, law, medicine, science, technology, arts, sports, politics, and media. He also doesn't discuss equal access to health care, the gender pay gap, gender-based violence, or violence against transgender women.
Yet, women are encouraged to follow their dreams:
"Together, we are creating a Nation where every daughter in America can grow up believing in herself, her future, and following her heart toward the American Dream."
Reached in her grave, Elizabeth Cady Stanton, original Seneca Falls Convention organizer and influential suffragette, said "Haha," in response to President Trump's proclamation.
You can read the full memo here.