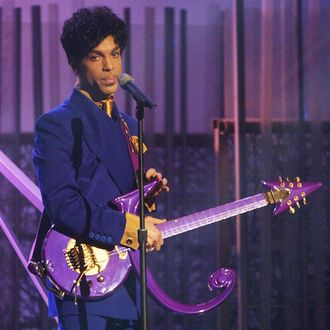 His purpleness.
Photo: Frank Micelotta/Getty Images
Prince was unquestionably an icon, and one of the absolute defining characteristics of the Purple One was, well, the color purple. Of the most obvious examples, his magnum opus was called Purple Rain, and it takes one quick Google search to see him adorned in purple again, and again, and again, and again, and again, and again. But in a downright bizarre development, Prince's sister Tyka Nelson recently told the Evening Standard that her brother preferred another color, actually:
"The stand out piece [of his collection] for me is his orange Cloud guitar. It is strange because people always associate the colour purple with Prince, but his favourite colour was actually orange."
Um, what? While Prince has worn orange quite a few times before — including this stellar ensemble at the Grammys, topped off with a cane — there is an abundance of evidence that he was definitely, absolutely, a purple guy. Need more proof? GQ's compilation of friends' stories about Prince includes tidbits about how the first time Gwen Stefani met him he was "wearing an all-purple velour jumpsuit," and when he flew Carmen Electra to Minneapolis "a purple limo was waiting outside" as soon as she landed. Back in the day at his Minnesota estate, Paisley Park, all you had to do was see "the purple light going through the [building's] pyramid" to know he was at home.
Photos of Paisley Park from Business Insider make it pretty clear that Prince factored purple into his interior decorating, too, including the fully lavender-and-mauve music relaxing room. Former bandmate Lisa Coleman simply referred to the Minnesota estate as "his purple house" when she spoke with Vulture. Prince took his decorating skills elsewhere too, as he once rented former NBA player Carlos Boozer's Hollywood mansion, and he changed the color of the house's flowing waters from blue to purple.
In short, we refuse to believe that Prince was somehow cheating on purple with orange, and if he was, at least Pantone is wrong about Prince's purple love, too.