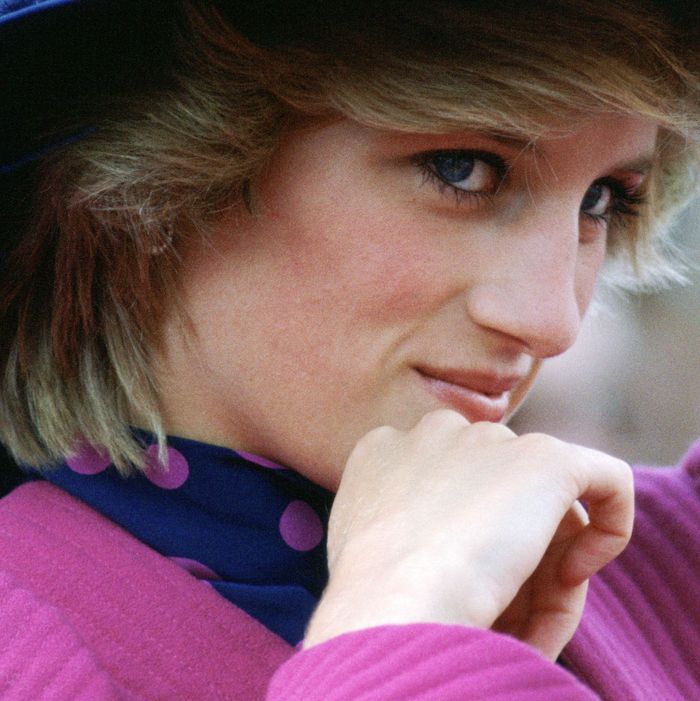 Diana, Princess of Wales, 1983.
Photo: Tim Graham/Getty Images
In the world of tabloid journalism, death is the ultimate news peg, second only to a death that happened 20 years ago. From that distance, the deceased is fresh enough in our minds that their power and magic are still potent, but far enough away that we have to squint to see how far we've come. There's perhaps no better recent example than Princess Diana.
The anniversary of her death has brought two new documentaries purporting to be based on "secret" tapes, and it says a lot about Diana that these "secret" tapes were all made by Diana herself rather than any shadowy enemy. It's almost as if recording herself was her first experiment in shaping a narrative she'd been told she couldn't control. If you can't write an autobiography, how do you use the media to construct a biography for you? Silenced by the realities of the palace, alienated by the royal family, and with few friends she could trust, Diana wrote a playbook for how female celebrities could exploit the platforms available to them to sway the public image in their favor.
The first of the two documentaries — National Geographic's Diana: In Her Own Words (which premiered August 14) — is assembled from "rarely heard" recordings Diana made with a friend, then secretly deposited with biographer Andrew Morton. He'd later use them to construct his controversial 1992 book Diana: Her True Story, which shattered the fairy-tale image of Charles and Diana's marriage and bolstered public opinion of Diana. (After her death in 1997, the book was republished with the revelation that Diana had been the book's primary source.) In that regard, they aren't "secret" in the usual sense, the sense of "that which filled Gretchen Weiners's hair"; they were a carefully constructed series of divulgences made on background for a reporter.
The other set of tapes, in contrast, are more what we might typically call "secret." A series of videos, they are the product of her 1993 work with a speech coach, Peter Settelen, whom she engaged to help her conquer her shyness — her marriage was falling apart, and she'd resolved to dedicate more time to her charitable efforts. They are the foundation for a highly controversial documentary that aired first on Channel 4 in the United Kingdom earlier this month, and will now air tonight on PBS: Diana — Her Story.
Portions of these tapes were shown in a 2004 NBC special. Still, Diana never intended for them to be public, and while the ethical gray area of airing the tapes at all has gotten Channel 4 in trouble, the documentary doubles down on the tapes' private nature as its selling point: "There is no other footage that reveals her spirit so intimately," says the narrator. "A princess searching for a voice that the establishment would come to fear."
But if there's anything shocking about the tapes, it's Diana's almost naïve-seeming candor. It's less surprising to hear that Diana's romantic life with Charles flamed out after a certain period — his affair with Camilla was public knowledge, with transcripts of their 1989 sexually charged phone conversations published internationally in 1993 — than it is that Diana so willingly discussed it with someone she'd merely hired to help her speak more confidently in front of crowds. And she seems to have further confided in Settelen off camera. In the most salacious portion of the documentary, he even prompts her:
 

Settelen: There's virtually no sexual relations with you and with Charles?

Diana: Sort of once every three weeks. And then it fizzled out about seven years ago, six years ago.
There's a bit of a Laura Palmer–Dr. Jacoby dynamic here. But this is also true to the open warmth that won Diana praise from relatives and fellow aristocrats, as well as the patients she visited in hospitals. Her Pollyanna-ish tendency is a theme of Tina Brown's essential Diana book, and for all the scrutiny she faced from within the palace and the paparazzi, Diana often displayed a kind of childlike surprise when people didn't display a fundamental sense of decency. It was an important part of the charm Diana would come to exercise so successfully.
Both explicitly and indirectly, Diana: Her Story shows the three ways Diana learned to control her public image. First, there was her canny decision to focus on her charity work. "I found myself being more and more involved with people who were rejected by society," Diana says in a voice-over at one point. "I found an affinity there. I respected very much the honesty on that level of people I met." True, this gave the princess a grounding distraction, but it also created a juicier motive for the media to criticize the palace: How dare those heartless people cast out the woman holding hands with AIDS patients, the woman who bravely charged across an active land-mine field in Angola to bring an end to the devices' use?
Second, there was her staunch romanticism. As she tells Settelen, she and Charles met just 13 times before she put on the big Emanuel balloon that minted her a worldwide celebrity and agreed to spend the rest of her life with the prince. "I desperately loved my husband and I wanted to share everything together," we hear her explain. (She insists on their love even as she recalls that he cavalierly replied "Whatever love means!" to a TV interviewer who asked the then-newly engaged couple whether the two were in love.) As the documentary reminds us, Charles went on England's ITV in 1994 to come clean about the failure of his marriage. Perhaps he thought he was taking a page from his wife's tell-all playbook, but instead, his cold, pragmatic language showed that she was doing something savvier than just spilling her guts. "It became irretrievably broken down," he said (of his marriage, not a car). "I'd much rather it hadn't happened, and I'm sure my wife would have felt the same. It wasn't for lack of trying." Although Diana would later admit her own infidelities, too, it was Charles's obsession with Camilla that began to lead the popular understanding of why the marriage fell apart when they finally divorced in 1996.
And last, it was her wardrobe. Over a B-roll montage of Diana in her now-signature look — jewel-studded, in plunging necklines, showing off her newly muscular figure, with her hair and makeup groomed but relaxed — the Diana voice-over incants: "It's the strength that causes the fear. Why is she strong? Where does she get it from? Where is she taking it? Where is she going to use it?" (Forget keeping calm and carrying on!) If the romantic lace and bows that made her an icon were also the costume of her fairy-tale marriage, the studded Versace dresses and the leggy Christina Stambolian dress she wore to the Serpentine shortly after Charles's ITV confessional were like armor. "By 1997, she was arguably the most famous woman in the world," the narrator says, as Diana swans out of a black car in a lilac shift and pearl choker for the opening of a new hospital wing. Her wardrobe became a way for her to project her new Amazonian strength, physically and emotionally.
The tapes that form the basis for Her Story would serve, informally or otherwise, as preparation for her explosive 1995 Panorama interview with Martin Bashir (which the documentary also draws on), the event that became the consummation of her skill on the public stage. In conversation with Bashir, Diana confessed her private battles — her struggles with bulimia, with the public perception that she was stupid, with her husband's infidelities, with the palace's attempts to "isolate" her — and triumphantly cast herself as victim of the palace's obsession with decorum and cold lack of empathy. She owes much of that triumph to her candor. And her interview with Bashir now looks like the polished, prime-time version of her conversations with Settelen, down to her keen awareness of her appearance. Though Settelen was speaking to her three years before her tête-à-tête with Bashir, you can already see her pulling her chin down so that she has to gaze up at the camera with saucer eyes — a doe in the queen's Range Rover headlights.
Diana's media savvy echoes today in the machinery of celebrity divulgence, whether it's the weaponized Snapchats Kim Kardashian used to claim the moral high ground in her feud with Taylor Swift, or Swift's own return to the spotlight embracing a cause greater than herself. Perhaps, 20 years out, these media-savvy tricks are what we might better call Diana's "secrets."