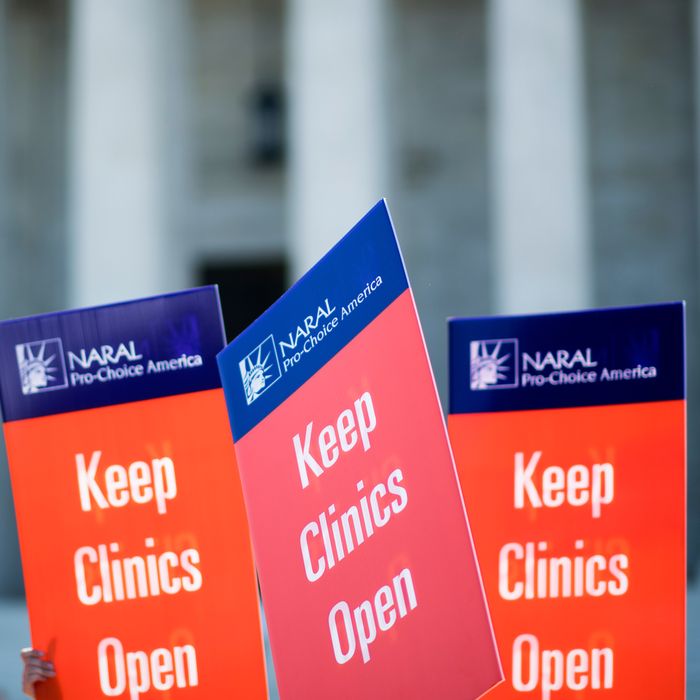 NARAL Pro-Choice America, Democracy for America, and other progressive groups released a statement Wednesday.
Photo: Bill Clark/Getty Images
On Monday, the chairman of the Democratic Congressional Campaign Committee reiterated what other top Democrats have been floating for weeks now: that, in order to win back control of the House, Democrats might have to support candidates who are anti-abortion. "There is not a litmus test for Democratic candidates," he told the Hill. "You need to make sure you have candidates that fit the district, that can win in these districts across America."
Many saw his comments as an indicator of the Democratic party's willingness to jettison women's rights in order to win votes. And on Wednesday, about a dozen progressive organizations banded together to put out a statement arguing that all Democratic candidates should be pro-choice.
Led by NARAL Pro-Choice America (which backed Hillary Clinton in the Democratic primary) and Democracy for America (which backed Bernie Sanders), the groups – which work to advance a host of progressive values, not just abortion rights – reaffirmed their commitment to supporting candidates who promote abortion access. A candidate can be personally against abortion, their statement says, but "if they vote to restrict abortion access or contraception access, they then undercut the party platform and they undercut the welfare of women."
What's more, it suggests that if a Democratic candidate doesn't govern in a way that promotes abortion rights, they won't get support from any of the 13 organizations listed:
As progressives, we know to organize, mobilize, and win elections we must field candidates who understand the integral nature of these core values and bring the full power of our collective base to win.
The statement also points out that abortion access is integral to achieving economic justice, which is the focus of the Democratic party's new message. "As progressives, we know we cannot have a real conversation about economic security that does not include the ability to decide if, when, and how to raise a family," it reads.
Charles Chamberlain, DFA's executive director, said the statement counters the false dichotomy Democrats have been toying with since Trump's election. "Democrats will fail to retake power in 2018 if we allow ourselves to be forced into a false choice between a populist progressive agenda and reproductive justice," he said in a press release. "Abortion rights are inextricably tied to the fight against economic and racial inequity."